animekittyninja-aka kiki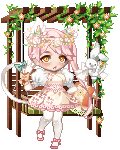 Details
Last Login

01/14/2017 8:10 am

Member Since

06/08/2007
Location

Georgia

Occupation

Bartender

Gender

Female

Birthday

02/17/1993

Website
---
Interests
Favorite Movies/Anime
Favorite TV Shows
Favorite Reads
Favorite Music/Bands
Hobbies/Interests
About
My first name is Kaitlyn, and that's all you're going to get. The nicknames I go by here on gaia are KiKi, Kitty, Kitty Ninja, Anime, and aknakakiki (that one was only used by one person though). Yes, KiKi is from "KiKi's Delivery Service" by Hayao Miyazaki. Miyazaki is my favorite animator of all times and I generally can't find a movie by him I don't love to death. I love anime and manga, as my name should also suggest. Don't let the ninja part trick you, though. I'm not the sneakiest person in the world. I own three cats, one of which I spoil as though she were my firstborn child. Let's see here... I roleplay frequently and highly enjoy it. In fact, I get annoyed when I can't think of a good response. At this moment, however, I won't be able to accept joining any roleplays since I'm already a part of quite a few where I play multiple characters.

Avi Art:
I love art and I'm questing avi art (preferably free since I'm always spending what little gold I earn...). If you draw any of my avis, whether I'm wearing them or they're one of my dream avis below, I will be so thankful~! I've received quite a few over the many years of me being on gaia, so I've condensed them into an "Art Gallery". To see all of the art I've accumilated over the years, click the link to Anime Kitty\'s Art Gallery ((Open:Requesting Art)).
Friends
Viewing 12 of 140 friends
Journal
KiKi's Layouts
Currently cleaning my Journal to get rid of a lot of useless stuff, so pardon the clutter.
Multimedia