About
Last Updated-JAN.4.2013
ARTWORK IS COPYRIGHT MINE!!!!!
DeviantArt Webpage:

http://www.smartanimegirl.deviantart.com/
A Little About Me:
Hello. My name is Nadeshiko Masayume. Nice to meet you.
TO BE UPDATED WITH MORE IF I'M EVER UP FOR IT
(RESERVED FOR MORE SLOTS ONCE UPDATED)
Gift(s):
ME AND ROXAS HUGGING!!! THANK YOU YURITORA-CHAN!!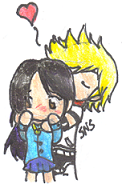 Friends
Viewing 12 of 26 friends
Journal
All My Fears...And All Our Lies....
A journal of any random blogs that comes to my mind about the late days I've gone through whether stupid or not. Either way, all is welcome to come read or leave a comment.
Multimedia
Signature

Current Mood: Emotionless
See my artworks on deviantart.com: http://smartanimegirl.deviantart.com/
Or
Come to theotaku.com and vote for my artworks: http://www.theotaku.com/portfolio/smartanimegirl