About
Hi. I'm 15. Zelda's where it's at. I play Minecraft, too. Yay video games! Nothing else to write, so, have fun, boys and girls! And the rest!
Interest Tags
Favorite TV Shows
Favorite Music/Bands
Hobbies/Interests
Equipped List
Wish List
My Playlist
You currently have zero playlists!
Angelic Wafflez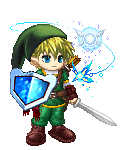 Last Login: 06/29/2016 9:06 am
Registered: 07/01/2009
Gender: Male
Birthday: 03/06
Signature
Yay, woop woop, ANGELIC WAFFLEZ. yeah.