About
GOD HATES US ALL!!!
MUSIC IS MY WEAPON
I WILL ******** cut you down to size, yuppie scum.
"It's not about how hard you CAN hit, its about how hard you CAN GET hit and keep on moving FORWARD, how much you can TAKE and keep on MOVING FORWARD."
-Sylvester Stallone
So here I am, lost and confused, but it don't matter, I'll make it out alive. Living and breathing is my game, Rich is my name. Blasting metal into the night, filling you full of fright. Full of pride i rise, to vanquish all who stand in my way, i don't plan on giving up, its in my blood to push on!
On this black earth i feel the stigmata slowly creep.
I burn bridges to keep my enemies at bay.
This is my wage of sin, singing my anthems of rebellion.
Keeping me from the doomsday machine that inches us closer to the rise of a tyrant
Revolution begins...NOW!
------------------------------------------------------------------------------------
Name: Richard
Age: 20
Race: human
Class: metalhead/mechanic
Height: 6ft 3in
Weight:225 lbs
Weapons: My "Hurtin' Bombs" hahaha =P
Location: Behind you.
Occupation: Employee of various establishments
Fav quote: Impossible is an impossibility.
Idol/hero: Bruce Willis, need i say more?
IN THE INTEREST OF SAFETY IT IS NOT ADVISABLE TO KEEP RICHARD AWAY FROM ******** METAL!!!
RP Character
Name: Anarkos
Age: 576
Race: Vampire
Class: Class S Vampire
Height: 7ft 5in
Weight: 200lbs
Weapons: The Jackal and .454 Casuall
Location: Everywhere - you just don't realize it
Occupation: killing stuff, lots of stuff.
Fav quote: DIE.
------------------------------------------------------------------------------------
Words Of Wisdom.
------------------------------------------------------------------------------------
As the century nears its format able end our global experience of universal proportions, predicted by many greats, will arrive at our own solar system, to our system of a down. Authoritarian oppression, family abuse, depression caused by conformity, and economic devastation will be neutralized by technological terrorism in times of complete chaos. Control will never again be gained for toleration will become extinct. A husband quarreling with his wife will not think twice or regret his spent bullet. Hungry children will not spare the grocer. Remorse in all forms will be removed from human thoughts and actions. Freedom will be only available through revolution or death. This System Of A Down is unavoidable as life on this planet becomes unnecessary. The hand has five fingers, capable and powerful, with the ability to destroy as well create. We have the power to stop and reverese the tides of time by making our awareness of abuse known to the powers of industry and thier uncouth political arms. Only by raising this awareness and promoting personal peace within today's self-defeatist society, can we allow the planet a chance to avoid self destruction! OPEN YOUR EYES. OPEN YOUR MOUTHS. CLOSE YOUR HANDS AND MAKE A FIST
-SYSTEM OF A DOWN
(quote taken form the back cover of system of a down's first self-titled album)
SYSTEM OF A DOWN ROCK YOUR MOTHER ******** SOCKS OFF
me...
me....and my Quest Atak 5!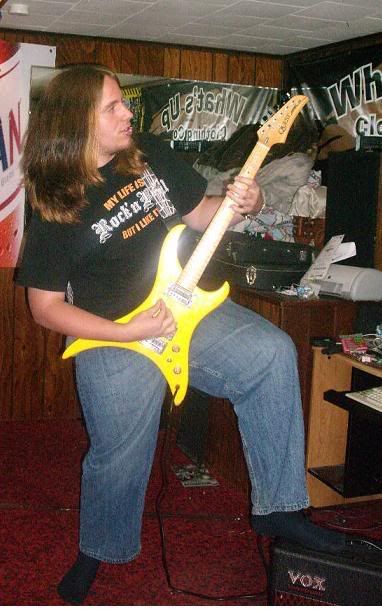 my motorcycle! and me!
"a free lesson on growing up
make the best of their worst
and never compromise what you feel is right
i make a point to be powerful when i speak
be the one that gives them nightmares when they sleep
never back down from anyone"
Friends
Viewing 12 of 73 friends
Multimedia
Signature
"Who the hell are you?"
"Your death."

www.medievia.com
"Do you DARE enter? "