AnarchyChoker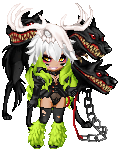 About
Anarchy Choker
Well judging by you reading this you either:
A) Thought I looked like an interesting individual [you'd be right]
B) Were to gutless to actually approach me in Towns or PM me out on a whim



People I am a really friendly person, don't get intimidated!



My sister on here is AnarchyLace and my best friend in the world is AnarchyNightie. Anything else you want to know, just read my interest, there are a lot. So there's me, don't be shy~!
Journal
Journal Log
I Shall Frazzle-Dazzle You
This log has no real significance other to express one of the following: 1) Fandoms/Passions 2) Anger [Real life or any other] 3) Reviews/Questionnaires