Amour_de_Fraise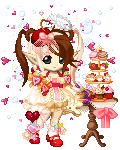 About

Hi there!

I'm Nina and I'm an asian.

I adore anime and manga.

When it comes to life, i go krazy. I'm a wild person if u know me in real life because i have one of the busiest schedules for some1 my age. i still want to make friends so feel free to randomly add me or trade with me!

I'm usually busy with instraments and other school work such as projects and art work

but i try to go on everyday.

Also plz buy my stuff in the marketplace or gift any random stuff to me.

I don't usually pm conversations so plz start the conversation

Friends
Viewing 12 of 47 friends
Multimedia
Signature


Get ready 2 PARTAAY!!!