Amore La Bore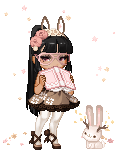 Details
Birthday

06/26
---
Interests
Favorite Movies/Anime
Favorite TV Shows
Favorite Reads
Favorite Music/Bands
Hobbies/Interests
About
I'm a cancer; moody, eccentric, and one hell of a party. I'm very intellectual on a side note, quick on my feet, enthusiastic, quite classy, and can seem a tad bit too exuberant. I'm far more mature than I seem, and respect all opinions. Even if I don't agree. Now for a few faults… I'm impulsive, I can be immature at times, I'm sarcastic or snarky, and I'm a bit of a push over. I love talking about psychology and enjoy analyzing body language. (:
- - - - - - - - - - - - - - - - - - - - - - - - - -
The main genres of music I find myself listening to are.... Rockabilly, Psychobilly, Punk, New Wave, Swing, Big Band, Bands I've Remembered To List, The Cure, Depeche Mode, J Roddy Waltson & the Business, HORRORPOPS, Sweet Sweet Lies, Flogging Molly, Nirvana, Tool, System of a Down, 7 Shot Screamers, Nekromantix, Creep Show, Hill Billy Moon Explosion, Big Bad Voodoo Daddy. Distillers, Creature Feature, Mozart Opera Rock, Lykke Li, MSI, Mariachi El Bronx, Bruno Mars, BIGBANG, Amanda Palmer, Bitter Ruin, Dresden Dolls, Blue October, That Handsome Devil, Nina Hagen, She & Him, Lady Gaga, Bad Religion, New Medicine, Say Hi, Kimbra, Gåte, Lumsk, Feist, Eminem, DeVotchKa, Devil Doll, Jessie J, Jack White, The Kills, Jack Off Jill, Violent Soho, Snow Patrol, Phantogram, 59's, Tom Stormy Trio, Rhythm Sophie, Reckless Ones, Stray Cats, d**k Dynamite & The Dopplegangers, Angry Johnny & The Kill Billies, The Killers, Yeah Yeah Yeahs, Misfits, The Police, Sex Pistols, Leftover Crack, Citizen Fish, Radiohead, The xx, Airborne Toxic Event, & So much more...
Journal
Mes Petits Amours
My characters are going in here. It seems as though everyone is making something and I decided to join right on in. Why not?
Multimedia
Signature

main tumblr: deliciously-devious