Amaethia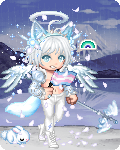 About






Hallo. I'm Misa and I'm twenty-three years old.
You may also call me Flutter, Amaethia or Parrot.
I fancy myself an artist and spend most of my time doodling.
Will I draw you? Maybe, if you ask nicely.
I'm basically Gaian seniority.
So respect your elders, kiddies.
I used to live on this site when I was fifteen.
Not so much anymore.
I'm just here to chat with old friends.
I stalk tumblr now. Cause I'm an adult. (Pfft!)
If you're looking for me, check there.
Will I give you my items? Haha, no. GTFO.
Back in my day a fancy item meant time.
These pixels are all I have to justify the waste.
I'm a manga snob, but feel free to talk about anime.
So I can educate you on the superior form.
My top favourite mangas:
Yu-Gi-Oh!, No.6 & Devilman.
My top favourite animes:
Dragon Ball, Yu Yu Hakusho & Madoka Magica.
I promise I'm not as mean as my introduction perceives.
I'm just a dorky child in an adult's body.
Does that make me the opposite of Bakura?
So yeah, shoot me a message sometime.
I'd love to be friends.
<3
. . .




My little dream.
Inspired by
Thief King Bakura.
:3

. . .




I'm not very active on Gaia anymore,
so look for me on these other sites::



DeviantART



Pixiv



Tumblr



Pinterest



Friends
Viewing 12 of 47 friends
Multimedia