About
the name's Aly, and...*looks around*...this is my profile.

Yes, I admit to being a fan of pokemon. Don't like it? Go find another profile. For those that don't know, I'm a huge fan of Electric-types, Zapdos and Electivire being my two favorites.


Seriously - how could you not like them?

and this? well, this is just a good song:
Welcome Home - Coheed & Cambria

...right. basics:


birthday

- 4/17


location

-

under yo bed

Arizona


fave colors

-

blue

,

teal

,

green

,

silver

,

black

,

purple




favorite bands

- too many to name... XD;

I am prone to sudden and/or random avatar changes. Deal with it.

I'm an

Aries

. I like setting things on fire. this may or may not hafta do with what my sign is.

-

favorite pokemon

-
Zapdos (Dilan, Tomato, Equis, Laxus) / Kyogre (Ishtar) / Swampert (Landors, Ankydon) / Electivire (normal coloration) / Luxray (Kamitsure, Don, Volkner)

I'm an avid role-player, looking for lit or semi-lit role-plays to join. At present, anything pokemon-related is good, but I do enjoy the occasional OC or Kingdom Hearts role-play. I'm in a pokemon guild here on Gaia; I'd like to think I'm pretty damn good in it.

-

nicknames

-
Kitt / Xaldy / Moose <-- for me
'skippy' / 'dear' / 'darling' <-- for you

...I believe that's all for now. Later.

...wait, that's not all. allow me to show off some sprites / art I've gotten~.



- c/o a friend, of my pokemon / Ouran OC




- c/o

Oasis Wolf

, feat. my favorite pokemon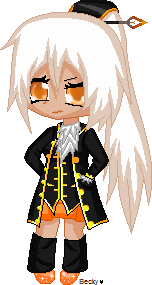 - c/o

--Beckys Nightmare--

, a chibi ver. of my avatar




- c/o

kimono girl snotty

, a Trainer Card w/my Water-type starters



- c/o

His Kuren

, upon acceptance into the Celestial League.




- c/o

Bowie-Spawan

<3




- c/o

Jewpetta

<3




- c/o

iLoony Lovegood

<3




- c/o

RennyRensaur

<3


more to come~ !

-----
Friends
Viewing 12 of 129 friends
Journal
AlyKitt's Journal
yeah, I changed the description again...now it's mostly guild-related stuff. enjoy^^
Signature


<- c/o Hhymn

Electric Leader of the Celestial League.
'The Sultana of Static!'




11 / 21 / 2014

Rooker is mai boi. <3