Altysay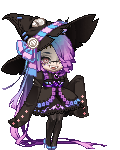 About
I'm taken by Akaru-Hime
First things first, I'm not goth, emo or whatever else you want to label me as. I am just me, and I happen to love black. I'm usually very easy to get along with and while it takes a lot to anger me that doesn't mean it's impossible. Don't try pushing your views on me and I wont push mine on you. ~
Also, I do not do random friend requests. If you want to be my friend, talk to me first other wise go away, and do
NOT
ask for a donation of any type. This means no hinting, begging, linking me to quest threads etc...it's annoying and makes me want to donate to you even less. Besides I'm usually broke xD.
(note: random stuff and other stuff aren't the same. Don't ask why not because it only makes sense to me ;D )
Random Stuff
Save yourself.
My favorite scene from Priest.
Angel of music
On a stick
This is halloween
Other Stuff
Deviant Art
Sheeps, mooo~
Photos
vThis is my cat, as you can tell he is very abused and unloved.v

Journal
Artabalooza or something like that X3.
Multimedia
Signature
~I

LOVE

rigs~
I don't always get my notices, so
QUOTE
me for faster replies.
I
do not
accept random friend requests.