Altysay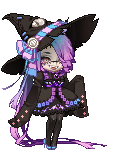 About
I'm taken by Akaru-Hime
Old profile is old, ask me stuff I guess?
I am 28, I super picky about who I rp with, and I do not rp with people under 18. It just feels weird, more than happy to talk to you though.
Blah blah blah words
Also, I do not do random friend requests. If you want to be my friend, talk to me first other wise go away, and do
NOT
ask for a donation of any type. This means no hinting, begging, linking me to quest threads etc...it's annoying and makes me want to donate to you even less. Besides I'm usually broke xD.
Journal
Artabalooza or something like that X3.
Multimedia
Signature

Art by Madame Chri
I collect bugs and inks
QUOTE ME TO GET MY ATTENTION
~I
do not
accept random friend requests~