Alpha Nightmare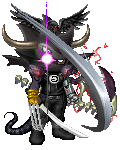 Last Login: 09/25/2012 4:47 pm
Registered: 01/03/2005
Gender: Male
Location: The Bay Area, California
Equipped List
Interest Tags
Favorite Movies/Anime
Favorite TV Shows
Favorite Reads
Favorite Music/Bands
Hobbies/Interests
Wish List
About
Hey.This is Alpha Nightmare. I don't really have much to say, so i'll just state some random facts:
- No, i'm not emo, scene or goth just because my avatar is all "OOOOHH DARK AND EVIL"
-I love me some fighting games, especially MvC3.
-I'm what you'd call a pothead
-My kinds of music are Techno, Trance, Dubstep, Electronic. That kind of stuff
-I've had this account for a REALLY long time, but I only started using it again recently

So yeah, that's it I guess.
Journal
.........................
Signature