About
I am a 60 year old man who lives in Canada.
Actually, I am female, and I also not 60. If I was 60 and still in college... I would have to seriously rethink my life.
I WAS an Music Major but a bad music program at my University has seen to it that I will never complete that certain dream. Instead I am an English major, with a focus on comic books and video games.
Despite giving up my dreams of being a professional musician, I am still a trained concert pianist, oboist and an English horn player. My favorite type of music is indie and techno, and would some day love to learn to play harp or guitar.
When it comes to books I have a large and varying taste. My staple favorite is translated epic poems from Rome and Greece, mixed with a little Milton. Like any person who was in elementary school when Harry Potter came out, I enjoyed the books thoroughly until I grew old enough to be cynical and jaded about J.K Rowling. My secret favorite of book genres is Gothic, and I don't mean Hot Topic gothic or "I cut myself" gothic. I mean classics like Dracula and A Rose for Emily along with the more modern fiction like Children of the Night by Mercedes Lackey and the Blood Ties series. When it comes to Twilight, I actually published a thesis essay discussing how Stephenie Meyer is selling abstinence to appeal to the warped "Hyper-Christian" teens. So no, I don't like the books and in fact have a seething hatred towards Stephenie as she has utterly ruined the view of gothic literature. Another favorite type of book of mine would be dystopian novels such as Oryx and Crake, 1984 and Fahrenheit 451.
I am an avid role player, like most English majors, believe it or not. In fact, a group of us under grads get together weekly to run through a campaign from our favorite at the time role play. It's a good way to work on character development as most of the other students are Creative Lit majors, unlike moi.
I'm an amateur artist who's taken 2 years of professional classes but didn't like it enough to make a career out of it. In fact, when art is given a deadline I just can't bring myself to meet them. Not good if I wanted to base my entire career off of just that. If you're interested I could do an art trade, but I'd have to like your art. >.< I'm picky.
As for work, I am a free lance video game reviewer. I lucked out and actually got a permanent position as a reviewer for a local company www.resetgames.com and you can find my work there.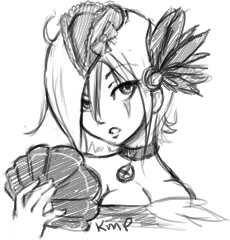 Avatar art by Black Cherry Milkshake. MUCH LOVE.
Friends
Viewing 12 of 57 friends
Journal
All On My Lonesome
I'm just a college student starting my freshman year and I am here to comment about being out on my own, dealing and ranting with just about anything I feel like. Hell, if Perez Hilton can do this, why can't I??
Multimedia
Signature
"Just remember I'll have known that, deep down inside, you were just enough of a b*****d to be worth liking" -Good Omens