Alienblackdragon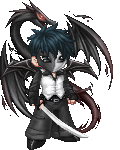 Last Login: 11/29/2009 3:07 pm
Registered: 02/05/2007
Gender: Male
Equipped List
Interest Tags
Favorite Reads
Favorite Music/Bands
Wish List
About
Hey I am me Alex
I am a nice guy. I like makeing friends....Ummmm.....I guess if you want to know more about me just ask.
Journal
I am sorry.
Signature
The dream of flying is far away.
The fear of falling is a step away.
But once you fall your life will end.
Just as the dream of flying again.