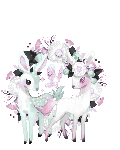 ♦

♥

♣

♠
Behind the smoke and mirrors...

I am 21 years old and a woman.
The keyboard used to create walls of text is located in Europe.
Imagination in all of its forms is my life - I am an artist, after all!

For any other inquiry, don't be shy to initiate conversation; I happen to love them.
New accomplices in mischief are always welcomed!
However, do

NOT

send me random requests, please. I decline them all.

Thank you for stopping by my little insane corner!

P.S.

My Cosplay avatars tend to have an original spin.
Don't expect absolute copies of the trademark outfits all the time.