Alias Facade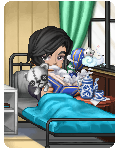 Details
Last Login

05/19/2016 3:44 pm

Total Posts

10111

Posts Per Day

3.18

Member Since

05/08/2008
Location

Seattle, WA

Gender

Male

Birthday

08/20/1980

Website
---
Interests
Favorite Movies/Anime
Favorite Reads
Favorite Music/Bands
Hobbies/Interests
About
Here's lookin' at you...
Truth be told, if you don't already know me then the best way to find out to ask. For those who would like to cheat however, know that I have a dear love for games of any sort, historic fantasy and anachronistic reanactment, and of course my darling wife and son!
I fancy myself an educated man, and am happy to converse on nearly any topic, often at great length. Also, I have attained the prestigious titles of Emcee and Master Herald, which mean among other things that I am professionally loud and anything but shy.
I am also a new dad, and my little man is a true wonder to behold. In fact, I behold him so often that I may be absent from Gaia periodically. I hope you will excuse the occasional disappearance!


My very first hand-drawn Avi-Art! Thank you, PinkPolkaLollipop!
Halloween Avi Art from the incredible Meshoe!
(Original)
Friends
Viewing 12 of 210 friends