Alec Ikiiki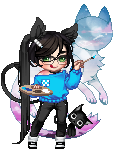 Details
Member Since

11/16/2003
Location

In my head

Gender

Female

Birthday

03/01/1986

Website
---
Interests
Favorite Movies/Anime
Favorite Reads
About

I come and go, here to there, all around, but to specifically no where.

I have my spurt of interest now. I'm back for now mostly doing art
and taking part in the 9th Gaian-Sponsored Nudity Event. Check my
signature for more details.



Journal
Alec's Randomness
All I can say is this: Don't expect anything great out of what you are about to read.