Alchemist 529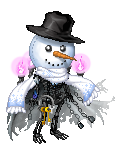 Last Login: 03/10/2014 5:02 pm
Registered: 11/04/2006
Gender: Female
Interests
Favorite Movies/Anime
Favorite TV Shows
Favorite Reads
Favorite Music/Bands
Hobbies/Interests
About
I used to like Bleach, but then there were clones which I hate for some reason, so I don't care for it anymore. I'm still writing my stories for my characters. I'm drawing stories too. Right now I'm focusing on the comic called "A Hero", which is about my character Hero and his friends.

I also used to watch a ton of anime. It was an addiction... I got over it, though I still watch some anime. Right now I'm watching Shingeki no Kyojin or Attack on Titan, which is full of epicness.

I am a fan of Umineko when they cry. I will never get tired of it and I want to solve the mystery to see the answer. It will not really matter to me whether magic is real or not because the golden witch Beatrice was real enough to me.
My Aquarium
Journal
Alchemist 529
Storrrriiiiiesss
Signature