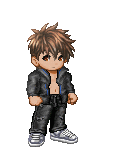 Birthday: 01/02
About
Hey, Nice to meet you.

love making new friends, anime, manga, martial arts, the list go's on if you want to get to know more about me chat up!

that's all don't want too much info for stalkers lol.
Interest Tags
Favorite Movies/Anime
Favorite TV Shows
Favorite Reads
Favorite Music/Bands
Hobbies/Interests
My Playlist
You currently have zero playlists!
Wish List