If I had to sum up life in three words it would be this: It goes on.
HOVER
Hello, my name is Alyssa. I am currently a freshman in college and honestly, I can say I quite enjoy it. I'm only seventeen years old and I reside in Maryland. Right now I work at Subway; I'm extremely grateful for my job.
I have two dogs and they're absolutely adorable. They have inspired me to become a veterinarian when I'm older. I also have a pet snake; her name is Ekans. She's an absolute sweetheart and super cute. My pets make me happy. I have a closer bond with them than most of my family and friends.
I don't get along with people to well due to the fact that I can be socially awkward and unpredictable. I tend to act purely on my emotions and a lot of the time this has led me to bad decision making.
I'm currently in a relationship with a man whom I love to death. He's been apart of my life for quite a few years now and he is my other half. He accepts me for who I am and all my flaws. I love you to death, Cory. ❤
Lately I haven't been myself. My life has been rough and so if I come off as being very dull or boring then yeah... sorry about that ;-;
Anyways, the majority of my time is dedicated to gaming. I LOVE to play Call of Duty, Halo, League of Legends, Minecraft, Pokemon, and basically just about every multiplayer game. I enjoy gaming because I can be myself and meet new people. I'm not really on this site that much but I try to get on as often as possible.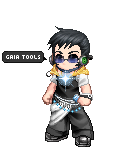 There is someone who I would like to commemorate. I've only known this man for a short period but in that time we've become great friends and I appreciate everything he's done for me. I met him on this site and his user is Knight Yoshi; aka Charles. He's a sweetheart and I'm very glad that I've had the chance to meet him. He always manages to put a smile on my face when I need it most and gives me advice when needed. Charles, I would like to say thank you from the bottom of my heart. You're such a great friend and I'm glad that I've gotten to know you.



Song currently playing: Crystallize by Lindsey Stirling



This is basically me. If you would like to get ahold of me the links are on the side. Please don't hesitate in talking! I love meeting new people even though I am shy.