Welcome
to my about
me
section.
My name is Alexandra, I'm a senior at LCHS in MI.
I'm eighteen years old.
I blow the candles out on August 9th, 1996.
I'm taken. ♥
My orientation is Demisexual Pansexual.
I am a Leo, and it's kinda scary how accurate the horoscope is.
I have an interest for photography, design, and over-all art.
I'm in love with the colors red, purple, lavender, and blue.
League of legends is life, league is love.
I listen to mainly K-pop/pop, rock/metal, and a bit of rap. Feel free to PM/comment some links to songs. ♥
My face cx

I love Anime and Manga! (ノ◕ヮ◕)ノ*:・゚✧
Finished list
: Elfen Lied, DearS, Sora no Otoshimono, Vampire Knight, Bottle Fairy, Card Captor Sakura, Nurse Witch Komugi-chan Magikarte, Chobits, D.N.Angel, Death Note, Princess Mononoke, Fate/Stay Night, Fullmetal Alchemist, Ghost in the Shell, Inu-Yasha, Lucky Star, Tsukuyomi, Ouran High School Host Club, Rave Master, Rosario Vampire, Rurouni Kenshin, Sailor Moon, Shugo Chara, Soul Eater, Spice and Wolf, Spirited Away, Strawberry Panic, Tokyo MewMew, Trinity Blood, Witch Blade, Baka to Test to Shoukanjuu, .Hack, Princess Tutu, Kaichou wa Maid-sama, Queen's Blade, Blue Exorcist, Another, High School of the Dead, Amnesia, Diabolik Lovers, Pupa, Sankarea, Danganronpa: The Animation, Black Butler, and many more!
I tend to forget what else I've watched...
Currently finishing up
: Free!, Beyond the Boundary, Kill La Kill, Attack on Titan, Hunter x Hunter.
I do have a
Tumblr
, though I warn you I reblog some interesting things.
I also have a
Facebook
for those whom have asked.
I'm an animal lover; I currently have five dogs and three birds.
One day I hope to own a Husky and German Shepard mix, along with a Munchkin. ♥
My biggest wish is to attend a medical school that revolves around animals,
and my second wish is to go to beauty school to cut and style hair.
I've met so many wonderful people on this site after being absent for three years, I couldn't help but stick around.
Quote:
[5:03:47 AM] Shy: Alex, you're the most cutest and most amazing girl I've met in my entire life, you're beautiful, you have a unique and special personality, and you're just down right perf. I'm glad to call you my waifuu and glad to have you in my life, if it wasn't for you I wouldn't be happy all the time. The things you send me over skype really make me laugh all day and just help me smile through the toughest times, but most of all you in general make the sun come out on my cloudy day, you know how much you mean to me and that'll never change

I love you and I'll do everything in my power to make you happy everyday"



Powerpuff girl colors<3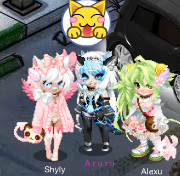 Personality:
I can be really sweet, adorable, shy, quiet, and over-all generous at times. If you anger me, I won't be afraid to speak my mind and be a b***h. I would rather be blunt with people instead of sugar-coating things to make the situation "better". I do feel horrible when I upset someone. I am very fragile when it comes to my own emotions. I would cry if you talk down to me when I did not even do anything wrong, or just being rude to me in general. I am very sensitive at times. Other times I can be really aggressive. My moods reflect off of you. (。-`ω´-) Treat me nice.

♥ Comment ♥