Boring Old Me...
A few things about affairoftheheart
I'm Diedre.

That's me. Aren't I pretty?
I'm 20.I live in Minnesota.
After taking a year off after high school, I am attending college as a Theatre Major.

Don't bother asking me what college I'm going to. You haven't heard of it. Trust me.
I am absolutely obsessed with Harry Potter (I'm a Slytherin),

RENT (I dream of playing Maureen one day),
and Ouran High School Host Club (Kyoya and Mori are my boys <3)



I am also a recent Gackt fangirl. My friend Lulu got me into Malice Mizer, and subsequently him. I don't really listen to his music because I don't understand a word of Japanese, but come on...
...HE'S SO PRETTY!!!!!
PM me if you want to talk Harry Potter, Broadway shows, country music, or opera!
Send me avi art, and I will love you forever! <3
P.S. : Redvines, what the hell can't they do?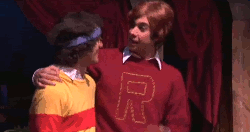 Also: OMGDARRENCRISSONGLEE!!!!1111!!!!!one!!!1!!!
He's so dreamy...
Background can be found [url=http://browse.deviantart.com/customization/wallpaper/?q=rubber duck&order=9&offset=24#/d32mwv]here.[/url]