About
DO NOT THANK ME FOR BUYING YOUR ITEM!
First and foremost, I applaud and thank you for taking the time (let alone consider) in reading this little "biography" of mine. I assure you, it will be lengthy - at least in accordance to most of the content compared to Gaia these days; then again, I halted any effort into really seeking any substance on here for… a good time now, so forgive me if I'm misinformed.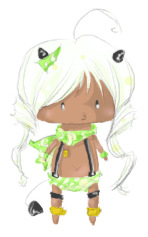 To start, my name is Krissy. Pleasure to meet you, if we ever get the chance to speak. I joined Gaia October 2004, so I suppose I could be considered an older member, though, that matters naught to me. I've had more usernames on Gaia than I really care to remember, but to name just a few, I used to be Alexara, Alexara Kuramusashi (dear God, I am surprised I even remembered how to spell that correctly), Cuddle Bunneh, Krissy`… I think that is the bulk of the name changes, but again, I cannot remember specific name changes in-between. My Alexara account is still around, however, I forgot the password to that account after I changed and transferred accounts. Years of neglect have made my memory dull, because I cannot remember the password to save my life, unfortunately. Ah, such is the life of an online account, no?
Originally, I joined Gaia to, like most in 2004, to role-play. To me, it wasn't as though I was the character nor were any characters purely based off of me. No, to me, the thrill came from writing with other encoding elaborate stories, plots, character scenarios; in which were all sporadic and evolved one sentence at a time from person to person. It truly was one of the best ways to extend my knowledge as a writer, and I engorged myself in the moment.
As I grew older, I noticed that my taste for role-playing grew… lackluster and bitter. Too few replies were, as I felt, worth actually replying to. Understand, most of my friends had stopped role-playing when I decided to take my hiatus and it was frustrating to have someone just write one sentence in reply to a detailed response. In retrospect, I was in the chatterbox, so that may or may not have had to do with it.
As my interests changed on Gaia from the role-playing to the more ascetical features, I slowly started collecting items worthless and priceless (to me). Afraid of the lack of control in the forums, I dipped my feet into guilds. It took me a good while before I was able to find a "home", per se, but I did. As my interests changed, I became a Site Moderator. At the time, I wanted nothing more than to help with the "lack of control" (really, it was the user to available Moderator ratio that did it) issues I mentioned above and applied around 2008. In 2009, I was an official Site Moderator.
However, I did not expect the lack of control in my actual life that turned me upside down, though rarely do others expect such utter chaos in life. In any case, I had to step down because I did not feel it was fair to put so much attention on my life rather than Gaia and honestly, real life does come first.
I suppose I should mention my personality here. I am an acutely aware hypocrite with double standards. I am profoundly exceptional at giving others advice, however, it is a do as I say, not as I do, mentality. Or rather, it could be also that I wish to save people from the embarrassment, anxiety and loathing that came about in certain mistakes and situations that, to this day, I am haunted by.
Skeletons in my closet, to put it simply. Yet, these days it seems as though I'd rather wear the bones around my figure to parade about. I'll let you ponder on what that cryptic, nonsensical bullshit means.
I hold grudges as though I have the right to skip or forget the notion of forgiveness. I try to avoid holding actions and words against others. All the same, I forgive people too easily. I give them a gun with a bullet (or two) to fire upon me as though they missed their mark the first time around. Or second. Or third. Damned if I do, damned if I don't. Meh.
Aside from my obvious flaws that I've thrown out in the open, I do have a rather dry, morbid sense of humor. I'm not quite sure how to explain that, as I've spent far more time over-analyzing my weaknesses rather than my strengths. Something I should change for the better, do you not think? I can be viciously unkind or immobilizing sweet, depending on the situation. Too loyal at times, though you catch my drift.
I love the arts; music, painting, drawing, pixeling... It is truly my passion and my true love. I've seen several musicals and enjoyed them all. I adore how someone can sing and portray a story, while showing the emotional of love or turmoil. It's always a plus if they can sing well, too. Not only that, but they must act as well while not singing. Such dedication and effort is really, in my eyes, commendable.
I also love to write and paint. I've wrote several essays and quite a few have won contests after being sent in. A few of my paintings have always been submitted to galleries, as well. I admit, I am my harshest critic. Though, any true artist is like that. I find that if I love something I created, over time, I slowly start to feel slightly embarrassed by it. Mainly because I know I could have done better.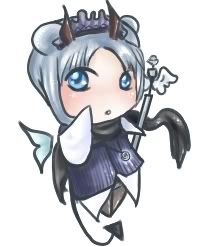 While I don't write as many essays as I used to, I do find myself writing short stories or poems on the side. Painting has taken a backseat to my life right now, mainly because I cannot put the time in for it as much as I use to, which saddens me, but that is how any passion can be when it comes to the arts.
Right now, I am working on developing my pixeling skills. I have started making my own doll bases from scratch and even made a doll shop here on Gaia. It was rather successful, but I still felt as though something was lacking. I realized that commissions was taking away from the joy I was supposed to feel. I have therefore taken a hiatus on my commissions, but am still active in the pixeling department.
Thank you for taking a look at my profile. Even more thanks if you actually took the time to read it. I do hope you enjoyed yourself. c:
Friends
Viewing 12 of 99 friends
Journal
Krissy's Little Corner
Multimedia