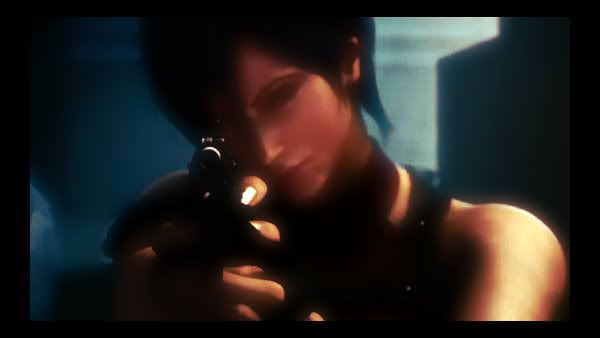 Ada went to the Raccoon City Police Department to find a reporter named Ben Bertolucci, who claimed to have vital information about the Umbrella Corporation. During her search in the department, she met up with a surviving officer Leon S. Kennedy. With Leon's help, the two were able to find Ben, who had locked himself in the precinct's jail cell for his own protection from the zombies. Ben didn't tell them anything, but he did tell them a way out of the city by going through the sewers. Leon and Ada tried to find a way into the sewers until they came across a closed shaft. Leon gave Ada a boost into the shaft. As Ada got to the other side, she stumbled upon young Sherry Birkin who ran away from her. Sometime later, Ben provided the two with documents detailing the conspiracy between G-Virus Antigen, Chief Brian Irons and William Birkin, the designer of the G-Virus, but not before he was fatally wounded by a mutated Birkin.
Ada and Leon made their way into the sewers as they attempted to flee the infested city, basically cooperating with each other. As they headed towards the sewers, they spotted Annette Birkin, a scientist from Umbrella. Ada chased after Annette, only to get Leon shot when Annette attempted to kill her.
Ada was once again seriously injured and presumed dead.