Random avatar art of me I made: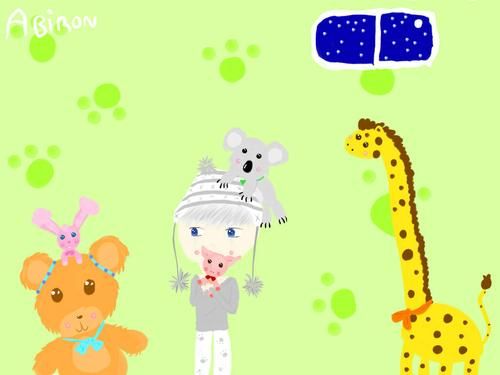 Friends that support me through the tough times:





Npulse:



My friend Npulse, who supports me through my depression. She is eager to always talk to me about anything, including my depression. She might only be on for a few hours, but talking to her makes me feel comfortable. I owe her for the support.





About me:



Heyyy, my names Genevieve (you may call me gen or genny)...I'm female, and genderqueer, recently I've made the biggest decision to remain a girl in real life, though still have the needs to be Abiron inside the screen, maybe genderbender online every now and then. I had a previous account named Coir, but it got permanently banned. I am now on gaia only for support. Other than that, I'm through with this site slightly. My age? Why is that important? That can go straight to personal messages. I like open-minded people, so if you're out there, you can be friends with me if you'd like. Just don't random add me so suddenly.



I am humorous, I like to make people laugh. It's a natural thing that I have and it's just part of who I am. I try to give advice as much as I can, even though my effort isn't really that well. I can be generous every now and then. It's rare for me to be generous to people I don't know, so if you're one of them well...you're lucky. I can also be a very hyper and wild person, I admit to trolling every now and then.



However, I can be cold most of the time. I come out a "bit" agressive if you try to persuade me into thinking your way or doing things I don't want to do.

Keep in mind that I can be somewhat straightforward about anything to you, whether it's harsh or nice, so beware. Just try not to get the feeling that I'm coming at you because all I'm doing is just being honest, take it or leave it.

I don't like to argue so I kinda cut off in some point of the conversation, because I'm pretty weak at arguing and eventually you'll probably "win." Just try not to get me into a bad-temper, and we'll be cool.



My religion is Wicca. That's something personal that I participate in so if you have any questions about how it's done, you may PM me. Random fact,

I love nature.

Also, here's some basic stuff I like and hate which I probably mentioned up there but I'll do it anyway:



Likes:


- Open minded people
- Humorous people
- Honesty
- Talkative people
- Patience

(even though I'm not but I shall expect something like this from you.)


- Good first impressions
- Generosity

(I don't expect this from you all the time, no worries.)





Dislikes:


- Discrimination
- Abominations
- Liars
- Back-stabbers
- People with no humor.

(that'll flick me off.)


- People who expect me to give them all the attention they need.
- People

constantly

coming to me for their problems and whining about their s**t.
- People who give off sexual explicit content

easily.

(however, I don't mind if you're being sarcastic.)


- Being pressured to do things.
- Online dating

(I do not have a problem with others having distanced relationships, but this is not for me.)


- Cybering
- Emotional people

(I can't bare with that, I'm sorry.)


- People who'll ignore others easily even for something minor.
- People accusing me for something I didn't do.
- Gold-diggers.

(yuck.)


- People who hide in their shell forever and expect you to worry for them and keep asking what's wrong.
- People who insult others just to entertain themselves or feel better about themselves.
- People who take out their anger on others.
- People who expect me to give advice to them but do not offer any in return.
- Selfishness
- People who are easily jealous and want me all to themselves.

(again, selfishness, but this time it's due to jealousy.)


- People who test out my emotions. (that'll flick me off to the extreme, don't you dare.)

Now, just because I stated a lot of things doesn't necessarily mean I'm a strict, cold person. If you actually talk to me, I'm not as bad as I sound at the moment.