a sweet prayer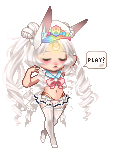 Gender: Female
Birthday: 08/25
Equipped List
Interest Tags
Favorite Movies/Anime
Favorite TV Shows
Favorite Reads
Favorite Music/Bands
Hobbies/Interests
Wish List
Signature


If it's your wish, I will follow you everywhere
even if your throne crumbles, and your shiny crown truns to rust
even if the bodies pile up endlessly, above the bottomless pile corpses
Beside you as you lie softly down, I will be
until I hear the words "check Mate" !
Sebastian <3



About me !!!!!!
Hello and welcome to my profile!!!!! XD My name is Trisha and my user name is a sweet prayer. Here is a bit of info about little old me ..... I am 20, I live in California with my brother,sister,mom and dad also i am a freshmen in collage. The stuff i love to do the most are..... read ,swim, draw (or at least try) , hang with out friends and cause trouble or just be lazy XD I also love talking about random things all the time well..... Because I just am :3 and I also like making friends so please do pm me or comment!!!! Yay comments! Anyway thank you for looking at my profile dears and I hope you enjoy it. Oh, you can find me on skype too. Just look for trishacopeland19 and say hi!~
-/)/)
( . .)
c(')(')
Fun/dumb facts about me that you should know:
1. I am the only left handed person in my whole family.
2. I am the only person in my family that graduated High school.
3. I can say the whole alphabet backwards. ( No worry's if i get pulled over soon!)
4.Cracks in sidewalks are my biggest enemy. I broke my arm by tripping over a crack once. ( Most of my biggest accidents happen that way >////>)
5. I have Dyslexia.
6 . I have three horses, three dogs and a indoor chicken.