a little hummingbird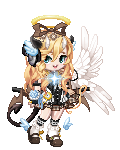 About
Art by Reverti
Who is to say we can stereotype and judge others, when we ourselves are not perfect? Who meets the criteria for normal? Let the truth bring an abundance of knowledge to you; nobody does. We don't meet any norms of normal, we don't adhere to the perfection we should, and we don't have the right to judge someone else, purely because we ourselves are incompetent, and aren't confident in who we are.


"Be daring, be different, be impractical, be anything that will assert integrity of purpose and imaginative vision against the play-it-safers, the creatures of the commonplace, the slaves of the ordinary."


xxx

- Cecil Beaton

My favorite color is blue, in nearly any hue. My love for music is boundless, but I most deeply connect with classical, although am by no means restricted to that. I love fantasy as a genre, whether it's through reading or video games. I like to chat, so talk to me. I love Chinese and Thai food, quite a lot.

I adore making puns, having others smile, reading, writing, painting, drawing, photoshop-ing, dancing, video game-ing, giggling. I also really like making avatars on this site. c:

You can find me mostly in the Pokemon, Chatterbox, Achievements, Word Games, and Barton Town forums.

Other things I'm partial towards: Lindsey Stirling, The Piano Guys, Peter Hollens, Alex Goot, Tyler Ward, Mike Tompkins (pretty much any Youtube Acapella/string instrument group), WoW, HM, RF, Persona 3 & 4, Pokemon... etc.

You may ask for my skype.

I rarely accept random friend requests, unless I recognize the individual from the WG forum.

Sometimes I have pictures up, sometimes I do not e_e
Friends
Viewing 12 of 119 friends
Journal
My Thoughts and Stuff
Where I rant about my opinions, preferences, what I find ridiculous, what I understand, everything and anything.
Multimedia
Signature



Keiric Sempai 4 lyfe

Currently: Hn.

Okami Tenrou is my WG waifu. Aw yes. ;D

Forever questing an angelic halo.

Follow my Twitch? Let me know and I'll follow yours back!