If it's here, it might make me happy if I got this...
A Lightning Joule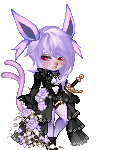 Last Login: 02/22/2016 9:55 am
Gender: Female
Birthday: 05/22/1998
About
Uhm.....I'm not really sure I feel comfortable talking about myself just yet.....uhm......gosh......what do I say?
Signature
If you pm me, get to the point. Rpers over pm, put rp in title. Conflict with me? Put conflict in the title. Basically, the purpose of your pm is in the title. Titleless pms are going to have a low probability rate of being replied back to unless you are a friend.