A Deathly Affair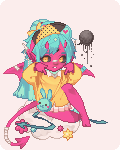 Gender: Female
Birthday: 08/17
Because He Deserves A Section....
So I couldn't help but notice I had neglected to put "Taken" on my Profile. Well I am. Taken, that is. And like I couldn't possibly describe just how happily taken I am in words. It's a feeling. Like the best feeling ever in the Universe and holy s**t.....

IDGAF if you people think I'm crazy. I love this man.

He is the most important thing in the world to me and he has been my best friend for five or more years now and I'd do anything for him and he makes my entire world brighter. My heart is racing just thinking about him!!!
Wish List

Call Me Death. Or Affair. Some People Can Call Me Affy.
Some Of You Are Lucky Enough To Know Who I Really Am.
I make art in my spare time. Typically Pixels. Though I do sketch.




21. Female. Human. California. Country Girl. Gamer Girl.
I Play LoL, Infinite Crisis, FF13, FF13-2, Pokemon, Minecraft, Diablo 2, Medal of Honor, Brink, Rage & Bioshock Infinite.


Quit Calling Me Pretty.