A Deathly Affair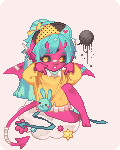 Gender: Female
Birthday: 08/17
Wish List

Call Me Death. Or Affair. Some People Can Call Me Affy. Basically Whatever Works.
Some Of You Are Lucky Enough To Know Who I Really Am.
And By Some...I Mean Very Few Of You. And Those Few Are VERY Close Friends.



21. Female. Human. California. Country Girl. Gamer Girl. (I Play LoL, Minecraft, Diablo 2, Medal of Honor, Brink, Rage & Bioshock Infinite.)


Hello...