About
Assalamualaikum n hye,
u can call me far or lyn..


I'M fr0m Malaysia..


nothing special about me..

Hanya hamba Allah yang lemah~
QUOTES
"Sifat malu itu baik .., Maka akan lebih baik jika ada pada PEREMPUAN "
(AL-habib umar)
Bila cemburu ,
Bila rindu ,
Bila sedih kehilangan sesuatu ,
ucaplah ''Ma Fi Qalbi Ghairullah'' (Tiada Dihatiku Melainkan Allah) :')
kawan yg sebenar adalah kawan yang mengajak kita ke arah kebaikan, bkn ke arah kemaksiatan ..

The Quran is for yourself, not for your shelf~
Read Quran at least 1page per day..
Azab yang paling ringan di neraka pada hari kiamat ialah dua butir bara api di kedua telapak kakinya yang dapat merebus otak.
(HR. Tirmidzi)

#Nau'zubillah min zalik
Barangsiapa memperbykkn istighfar maka Allah akn membebskn dari kedukaan dan memberinya jalan keluar bg kesempitnnya dan memberinya rezeki dari arh yg tidak diduga-duganya .
(HR.Abu Dawud)
Siapa yang ingin mengetahui kedudukannya di sisi Allah hendaklah dia mengamati bgaimana kedudukan Allah dlm dirinya. Sesungguhnya Allah menempatkan hambaNya dalam kedudukan sebagaimana dia menempatkan kedudukan Allah pada dirinya .
(HR. Al-Hakim)
Barangsiapa ditanya tntg ilmu lalu dirhsiakannya, maka dia akn dtg pd hari kiamat dgn kendali (di mulutnya) dari api neraka.
(HR.Abu Dawud)
Tiada msk syurga orang yg dlm hatinya terdapat sebsr biji sawi dari kesombongn~
(HR.Muslim)
" 5 GOLONGAN ORANG YANG AKAN ALLAH LINDUNGI DI PADANG MASHAR "

1.Orang yang shalat tepat waktu..

2.Orang yang sering mengaji..

3.Orang yang jauh dari kemaksiatan..

4.Orang yang sering bersedekah..

5.Orang yang Menangis karena dosa..

Semoga kita termasuk orang yang tergolong dalam hal tersebut..

Aamiin..
Friends
Viewing 12 of 346 friends
Multimedia
Signature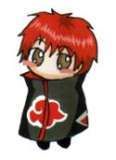 I adopted a Chibi!
Name:sASoRi~
Likes:remodeling puppet collection
Dislikes:-
Owner:far_izline wookie~
Adopt One!