About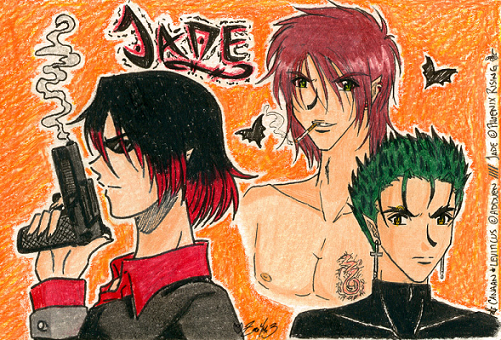 I am Jade, vampire servant and bodyguard to Phoenix: Master Vampire of L.A., Ca. I appear in Amanda B.'s story called


"PHOENIX RISING"


and in
Roronoa-chan_003
's online manga called
ADDUEN


(found at http://adduen.deviantart.com)
Phoenix is the founder and owner of the night club "Phoenix Rising", where I am the head of security. During the night, the club has live entertainment where vampires, lycanthropes, humans, and other creatures gather to be relaxed and release their darkest desires unto. During the day it's a subtle cafe where the lycanthropes and human servants take care of the place while the vampires sleep. To show your affliation and loyalty to Phoenix, we have either red strand of hair or wear red clothing all the time. This is a sign within our Kiss and to everyone else that we serve under Phoenix.

I am a master of collecting and wielding weapons from all over the world and all over time. Weapons are my life. I may not be an old vampire, but I have mercenary/military/assassin training and experience; so mess with Phoenix, me, or anyone else serving under my Master and I will personally kill you without mercy. This is your only warning, so please take advantage of it if you love your life
MY ORIGINAL AVATAR
PHOENIX
My Master and Master Vampire of L.A., California. She is an ancient vampire who's animal to call is wolves. Obviously she uses the power of fire and has many servants under her wing. I am her most trusted and formidable bodyguard as well as the protector of "Phoenix Rising" and everyone in it. Other than myself, her other strong most trusted servants are: Shemei, Sata, Merrik, and Ana. Most of the time she keeps to herself or is managing "Phoenix Rising", but she's constantly being bothered or threatened by enemies of all races. Whatever you do, don't piss her off if you don't want to be flame broiled.
SHEMEI
She is Phoenix's best friend and another ancient. She's the most popular entertainer in "Phoenix Rising" for her singing, dancing, seductive looks, and charms. But don't let her Goddess-like looks fool you, she is very powerful and very intelligent. She travels often around the world (mainly Europe) to entertain others and earn extra money for the club. She has only two other comrades in her performances who are Ana and Canaan.
SATA
*sigh...* Phoenix wants me to keep a close watch over this damn pup because believe it or not with her decieving looks, but she's the most powerful lycanthrope ever known and is also one of the few people who can comfort and calm Phoenix down. She was kicked out of her clan long ago and no other clan will accept her so Phoenix took her in. Part of it's because she acts like a puppy, but push the right buttons for her to transform into a werewolf and she becomes "Satan", and she will kill anyone in her path friend or foe in a blind rage. Personally, I tihnk she's a damn squeaky toy loving, no-good annoying pup!!
ANA
She is a French vampire who came to America with Shemei and is now one of her two performers. She was save by a pureblood ancient vampire who later bit her by her request when she turned 18. She learned from him that when she was a baby her parents tried sacrificing their only child to him to save their own skin. The vampire took pity on the baby and raised her as his own. For that, Ana hates humans. She's a quiet woman and a traditionalist of the old vampire ways. Everyone finds it strange (vampires and humans alike) whenever she tries to use old vampire tricks when they are unnecessary for mordern times.
MERRIK
Phoenix's lover and a real mystery man. He has no memory of his past or who or what he is. Call it amnesia, if you will. The only thing he knows is his name. Phoenix recently discovered that he may be thousands or even millions of yearts old and is the last of his race. He is a draco, a dragon lord. Other than his mysterious memory loss and unimaginable undiscovered power, Phoenix has fallen in love with his very being.
JONAS
He is a strong werewolf and Ulfric (leader) of the Crimson Moon Clan. He is one of the many werewolf allies with Phoenix, though he tends to cause problems with her often... He's suddenly interested in Sata and wants her in his clan. Like many other Ulfrics, he is aware of her dark secret as well as her unstable and strange behavior,, but wants her anyways. He seems pretty damn persistant to get her to join while convincing Phoenix to give her permission to join.
CANAAN
Like Ana, he came back to America with Shemei is is the second performer in her group. He's a mouthy party player and tends to get on my nerves. But his power intrigues me whenever he tries to challenge me with energy alone. He's a mystery to me and somehow I find it interesting, but I don't trust him. I think Phoenix is suspicious of him as well. But he's the most popular male dancer/stripper in "Phoenix Rising" and brings in the money, so he's on watch for now.
LUKE
He is one of the pureblood vampire lords and is one of Phoenix's greatest allies. Like Merrik, his past is a mystery to him, but he seems to not care about it. Phoenix is very interesting and attracted to him, but is troubled by his morals and rules. Even his lover Samaria troubles her. Part of it's because she's half-vampire, but it's mostly because she likes Luke and finds it strange how a powerful vampire like himself will risk his life for her to protect her.
LEVITICUS
One of Luke's comrades and the brains behind their operation. Phoenix and I have tried to outsmart him, but the vampire has proven himself worthy. He is a foul mouth, alcohol loving pureblood vamp who has a strange connection with Canaan. I don't know about Phoenix, but that interests me; with not only their connection,, but both of their mysterious power as well...
Pictures drawn by RORONOA-CHAN_003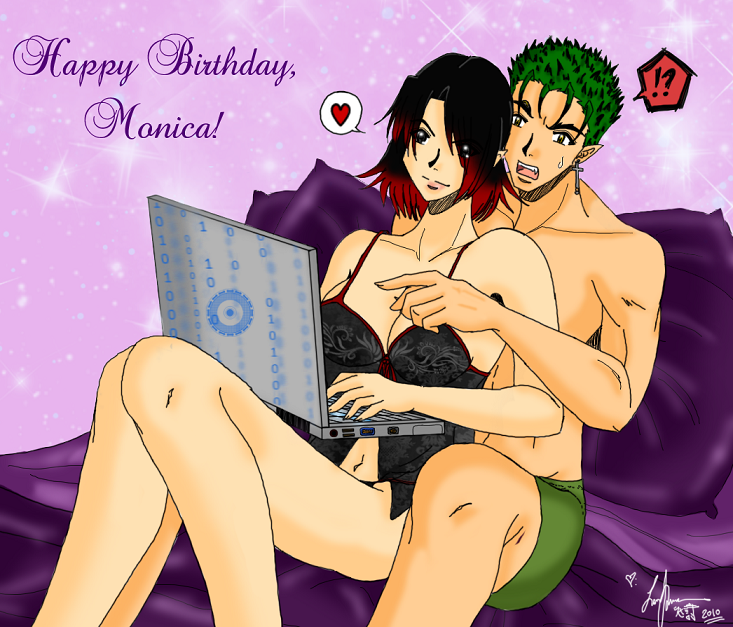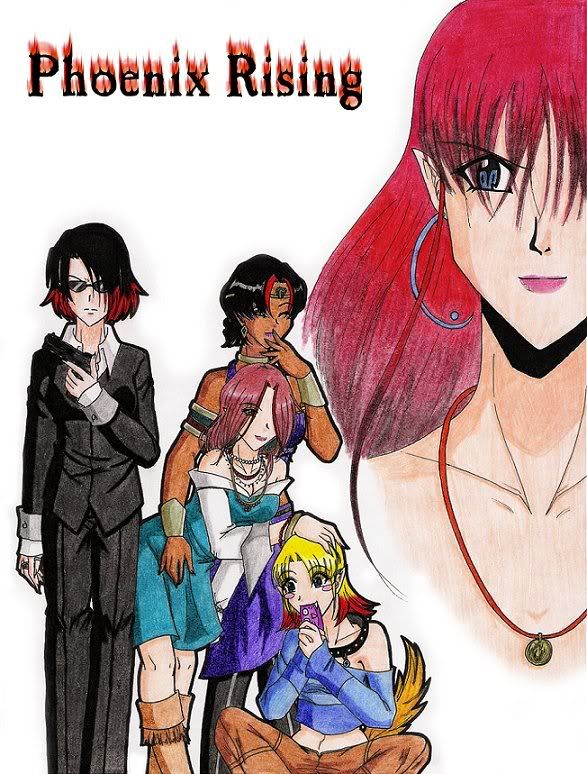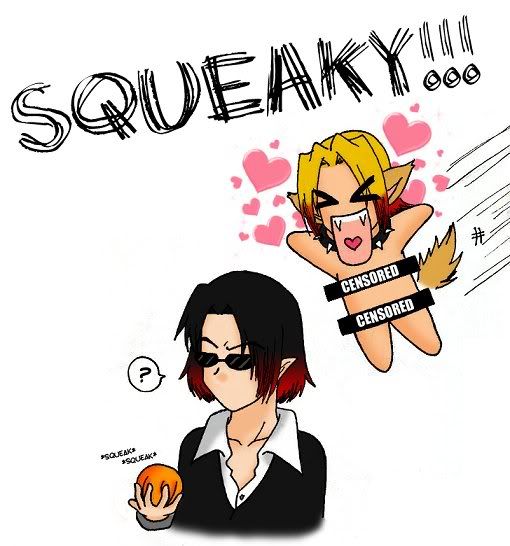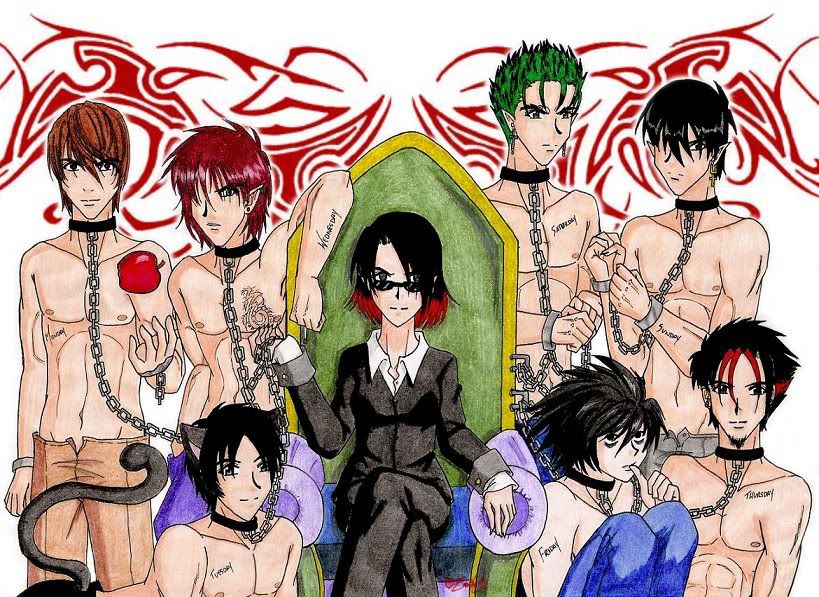 Pictures drawn by CHIBISOFA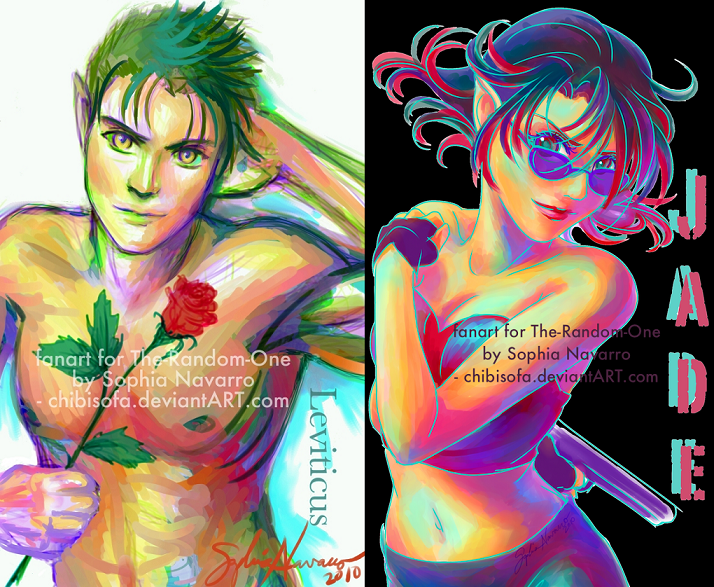 Pictures drawn by PORSELINCHILD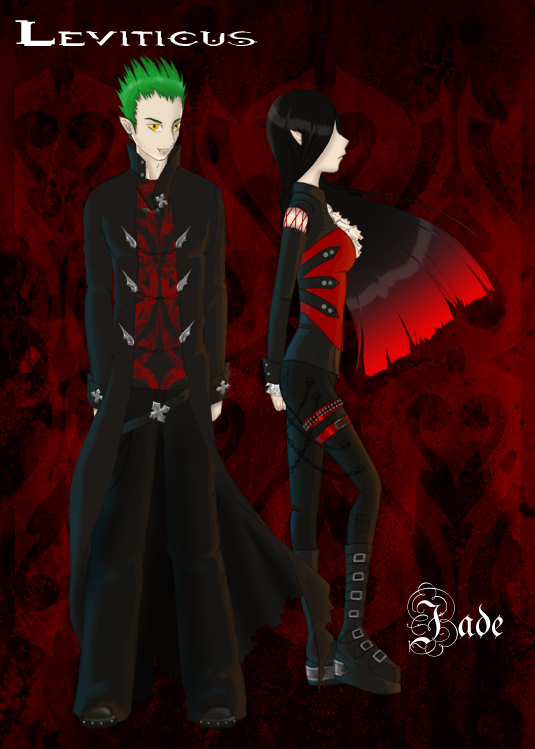 Friends
Viewing 12 of 37 friends