Emmy / 19 / Italian / Michigan
ʕ·ᴥ·ʔ ʕ·ᴥ·ʔ ʕ·ᴥ·ʔ ʕ·ᴥ·ʔ ʕ·ᴥ·ʔ ʕ·ᴥ·ʔ ʕ·ᴥ·ʔ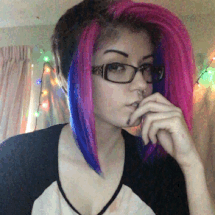 Generally AFK in towns or lurking CB.
Dream to be a tattoo artist,
dont PM me for avi art,
and a alternative model.
Everyone has big dreams

tell me if u think im pretty

CONTACT/GAMING INFO
Snapchat: WasInYourPantsu
Instagram: ********
LoL: WasInYourPantsu
BattleNet: Meowsoup#11234
Steam: Wasinyourpantsu
Song: In This Moment - "The Fighter"