13th Ryder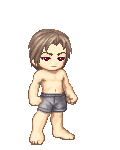 Last Login: 03/01/2013 5:11 pm
Gender: Male
Birthday: 02/14
Equipped List
No items equipped.
Interest Tags
Favorite Movies/Anime
Favorite TV Shows
Favorite Reads
Favorite Music/Bands
Hobbies/Interests
Wish List
About
Lets see. Born in Minnesota. Oldest of two. I join the Air Force at the age of 19, served for about 6 years. Didn't care for rank much. Senior Airman was good enough for me. I'm single but not really looking. My heart belongs to someone else, regardless if they want me or not. Ask if you wanna know more.
Journal
Dark Lords
Sith Datapad
Signature
"To seperate, concentrate. Surrendering through meditation, centering the soul."