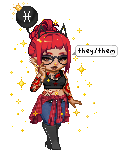 Registered: 12/23/2009
Gender: Female
Birthday: 03/07
Stuff
○ Names:

0ari, 0ri, cole, ari, arianasaur, potatosaur sextatosaur


○ Sexual Orientation:

The highest level of les-gay


○ Relationship Status:

Open relationship with my laptop and internet.
------------
More Stuff
Well first off, you should know I'm actually a dinosaur, trapped in the body of a twenty one year old gentlelady who is also a potato
Hah, just kidding..

not really


I'm a poet, writer, gamer, roleplayer, dork, lesbian, potato, and universal weirdo
I'm an srs roleplayer ok. I can write between 400 and 1,000+ words a post.
So message me if you'd like to 1 x 1
I'm a shitty pc gamer, and I like most MMOrpgs
I love making others happy, and seeing them smile
I'm ******** hilarious 10% of the time
The other 90% is basically crippling awkwardness
I've been called charming

never

at times
Usually I'm way too nice for my own good
But sometimes I'm a ******** a*****e for no reason
I'm probably on tumblr too ******** much
Ships and shows ruin me tbh.
I play zOMG too ******** much, it's a problem. Usually found in DMS or Smob/Smebing
My CL is

11.9/12.0

& I'm attuned
If I see some avi/username/etc I like, I'm going to try to stalk you/it.
I usually succeed
Because I stalk pretty much everyone
Yeah, that's about it...
------------
Links
Tumblr
-
Click
deviantART
-
Click
Dream Avatars
-
Click & Click
My Face
-
wham - bam - thank - you - ma\'am
Art 4 Me
-
Vertagho ♥
Screenies
-
here
-
------------
Posts per Day: 0.93
Total Posts: 1431

i'm a dinosaur trapped in the body of a 21 year old female, who is also a potato
i live on the internet and i like video games and boobs..
homestuck is kinda my soul
this is my tumblr


wat