Entry Tag:
(Jackariah Beckett | nymph mutant | heavy? | basket | Solo Custom)
I'm Hyper enough I've been asked to join the X-men!
Edit Category:
- Heavy
Soquili Species:
nymph mutant
Body Build:
Regular
Gender:
Female
Starting Stage:
Basket
Concept Origin:
original design
WIP Needed?
yes please

!
-- Colors & Markings --
Body:
see ref.
Face:
see ref. Eyes closed in a happy expression.
Mane:
I'm on the fence, but probably just a little fwip <3. But I am open to suggestions >3>.
Tail:
like the ref, maybe a little longer.
Hooves/Fetlocks:
paws!! Normal Fetlocks length. I want the focus to be the paws and not to be covered up <3.
Reference Image(s):

Horns: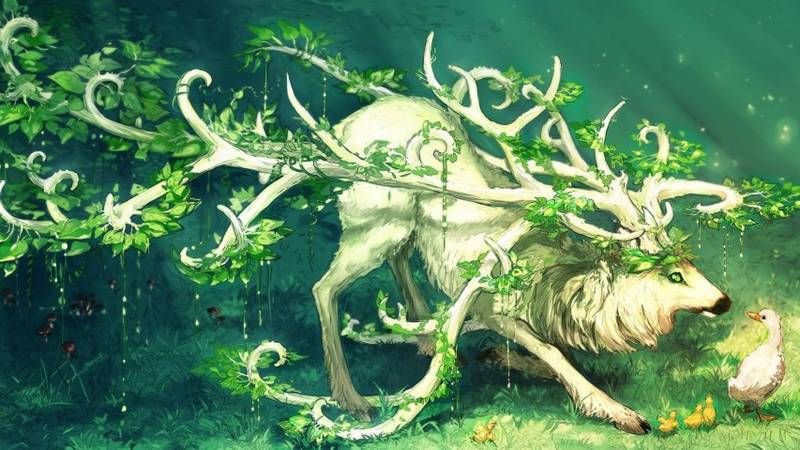 -- Physical Breed Traits --
Horn(s):
See ref. This is pretty much the only thing that differs from the actual pet. I would like them to be pretty gigantic x'3. And look like they have leaves growing from them and the little vine tendrils hanging down with dew drops =3.
Wings:
none
Fins:
none
Scales:
none
Pelt:
None
Other Notes:
If possible, I would like a version of the horns that do not have the leaves *like a 'winter' version or something. Because the idea *if it is allowed for mutant minis* is that the leaves and foliage actually grow from her horns. I would also like her to have big fluffy ears =D! Maybe just a little fluffier than the nymph ears, with tuft inside.
-- Accessories & Edits --
Trading Post Items:
If any, list them here and desired colors.
Custom Items:
Collar and bell =D. See ref<3. Also, I would like her to have the tuft on her chest like the pet<3. And some baby ducklings around her.
List of edits:
~ Horns
~ Ears with tuft inside
~ Expression change
~ Paws
~ Collar with bell
~ 4 fluffy tails
~ tuft on head/ possible hair idea
~ If possible, ducklings by her feet. If the horns and tails take up all the edit percentage, she doesn't need the duckies =3.
Reference Image(s) for Items:
-- Existing Pets --
If you didn't design this yourself (and it's not a commercial cosplay), did you get written permission to use the design?:
I own the custom
here