Maybe I expect to much of myself. I can't change things right away, it takes time. I'm still wondering what I should do though. Like, its not hard to explain my situation-- its just I don't want to. Its really dumb, kind of embarrassing, and my own problem. I might stop writing these journal entries.. again. I know, I know, I go through every few months. But this time it might be more permanent. I rarely interact on Gaia and I don't see my old friends anymore.. and I'm too awkward to try make new ones. My life sucks, I'm miserable, and just plain ol' too boring. I don't think I'm boring, but everyone else thinks I am. I mean, I guess I can see why, I do enjoy doing nothing on my free time. I might quit, is what I was trying to say. We'll see what happens.

You know, this is my favorite outfit back when I was a grombie. Perhaps overall, but its a bit plain. This look really stood out to me and I decided to give them a backstory, as I do sometimes.
I decided to give her the name Roz. Its simple, looks cute. I try my best to make sure my oc's name fits. Roz was an ordinary fighter until she became a zombie, then dedicated her life to fighting monsters. Given that she lives in a world where there are monsters/creatures, she fought them before. Her physical appearance and abilities changed after becoming a zombie. She is stronger and more agile, with skin is tough to pierce. Able to jump quiet high and take a lot of damage. She does bleed and it is possible for her to loss a limb. She's not frankenstein, so she might not be able to replace any body parts. And her wounds so heal on its own, just slowly.
Roz has a pair of magical pants that can transform into an ebony scythe. Perhaps slightly inappropriate, but if she's wearing the pants, she needs to remove then for it to transform. Roz does wear shorts underneath and sometimes a skirt over top when she's wearing her cool pants.
I even draw her! And, yes, they're all the same character. I was just trying out different art styles. Though I did mention how her outfit was plain, I might change it up in the future.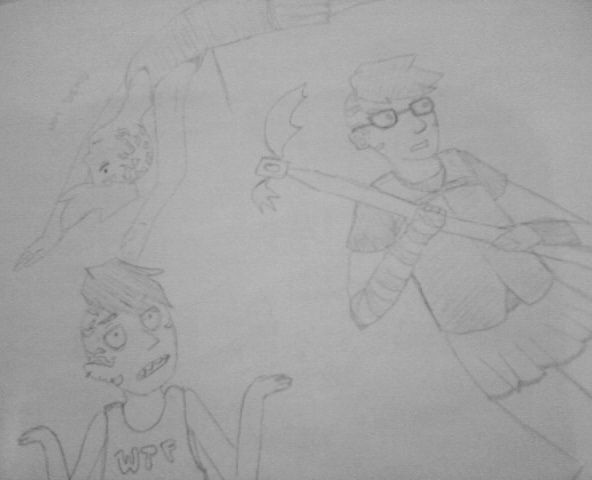 I suck at drawing, but I think I improved. Haha, I miss digital art. Its kind of funny to look at, and I didn't notice til now, that they're all looking in the same direction. /
loud sig
h/ I don't want to say the next entry might be my last, but it might be.