But I've had some personal issues.. & now I'm back. xP
"I guess we're doing this again, Mistress Luna?"
This one is special, cause not only are you showing off what I did to your Chiton & all, there's also something special to show off, right?
"Yeah, Mistress Luna played with yellow paint, & now I look more presentable.."
I also grabbed more paint so I can make a metallic line of something. xP
"Your eyes are lighting up again..."
Isn't there something you're supposed to be doing, Pittoo?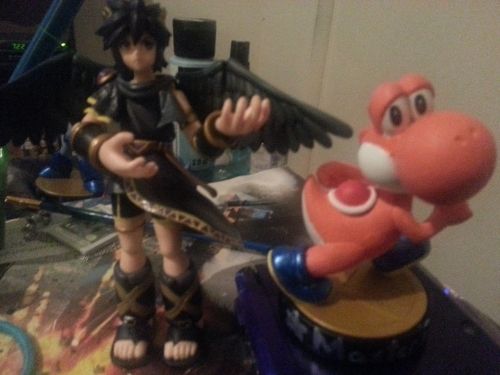 "Bleh, fine..."
*AHEM* Go ahead, Pittoo... dun be shy. =H=
"OK OK~!! So, while my mistress has been tracking down some Amiibo, she found some time to get another one... a millionth one of the SAME character... & I thought I was bad for knife collecting."
Oh come on! I don't have THAT many, Pittoo... That's a bit extreme there... =T
"Maybe I should ban

Yoshi

from our living place, how's that?"
Oh like how my mom did already?
"That was good on her part..."
I should ban you from my Wii U instead... ANYWAY~
"Yeah, well, meet Master Ra-"
"WALUIGI TIME!!"
"HEY!!
It's NOT Waluigi time...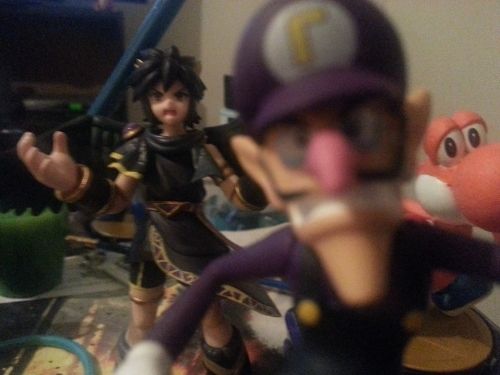 "WOW~ RUDE!!"
WAH!!
"Mistress Luna, permission to grab an ore club & beat him down?"
If I had one of those, I would grant you permission...
"Ah, ******** me sideways... I'll go grab a hammer? Does he respond to a whack on the head with a hammer?"
I guess we're playing Donkey Kong now... but with our random guest...
*Rough whacking sounds are heard in the background.*
Sorry that was interrupted, but we have a new tenant here & he's quite the comedian.
"Luna, HE STOLE MY HAMMER!! HELP, PLEASE!?!?"
Welp, Imma go help Pittoo with his problem.
*Maniacal Waluigi laughing in the background.*
Ja, that's just... PIT TRANQUILIZERS NOW~!!
"On it Lady Luna~!!"