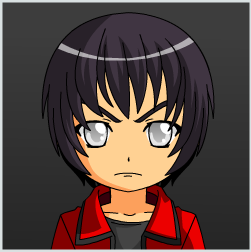 {Username} Greatdman15
===================== General Info =====================
Full Name: Allister Takame
Nicknames: Alli
Age: 17
Birth date: September 6th
Gender: Male
Originate: United States
Relationship Status: Single
Likes: Dueling, Music, and Girls
Dislike: Arrogant duelists
Rival: N/A
Hobbies: Dueling and listening to music
Goals/Ambitions:
My goal is to become the best duelist that I can be. If it means becoming a world champion, then so be it. If it means not becoming known in professional dueling yet still be strong, then so be it.
===================== Deck List=====================
Decks: 1
Deck Name: Shining Glimmer of Hope
Deck Ace: Red Dragon Archfiend
Deck Style:
Aggro
Monsters:
✪✪✪✪Elemental Hero Clayman
✪✪✪✪Elemental Hero Sparkman
✪Buuten
✪✪✪✪Elemental Hero Neos Alius
✪✪✪✪Elemental Hero Stratus
✪✪✪✪Elemental Hero Wildheart
✪✪✪✪ Goblinbergh
✪✪✪✪ Heroic Challenger Extra Sword
✪✪✪Junk Synchron (x2)
✪✪Nitro Synchron
✪✪Quillbolt Hedgehog
✪✪✪✪Reborn Tengu (x2)
✪✪Shield Wing
✪Sonic Chick
✪✪Speed Warrior
✪Tuningware
✪Turbo Synchron

Spells:
Double Summon
E-Emergency Call (x2)
Heavy Storm
Lightning Vortex
Monster Reborn
Natural Tune
One for One
Pot of Avarice
Rank-Up Magic: Numeron Force
Silver Wings
Swords Of Revealing Light
Synchro Blast Wave
Tuning (x2)

Traps:
Call Of The Haunted
Compulsory Evacuation Device (x3)
Defense Draw
Dimensional Prison
Graceful Revival
Magic Cylinder
Mirror Force
Negate Attack
Polymerization (x2)
Solemn Judgment
Solemn Warning
Starlight Road

Extra Deck:
✪✪✪✪Number 39: Utopia
✪✪✪✪Blade Armor Ninja
✪✪✪✪Heroic Champion Excalibur
✪✪✪✪✪C39: Utopia Ray V
✪✪✪✪✪C39: Utopia Ray Victory
✪✪✪✪✪Ally of Justice Catastor
✪✪✪✪✪✪✪Black Rose Dragon
✪✪Formula Synchron
✪✪✪✪✪✪✪✪Red Dragon Archfiend
✪✪✪✪✪✪✪✪✪✪✪✪Red Nova Dragon
✪✪✪✪✪✪✪✪✪✪Shooting Star Dragon
✪✪✪✪✪✪✪✪Stardust Dragon
✪✪✪✪✪T.G. Hyper Librarian
✪✪✪✪✪✪✪ Elemental Hero Gaia
✪✪✪✪✪✪✪✪Elemental Hero Great Tornado


=================== Extra ===================

[b]Duel Disk:
Duel Runner:

Theme Song(s):
In The End
=================== Background Info. ===================
Personality:
Allister can sometimes be anti-social but he can make friends easily. He's tall but still can be mistakenly called short because he's 6'1. He rarely smiles and always has this dreamy look on his face. He loves a challenge and feels he should only duel the best opponents.
History:
Allister was raised in the city by his mother and father. His mother was a stay at home mom ever since he was a child, so to keep herself busy she learned duel monsters. His father was always working to put food on the table but never knew about his wife's love for dueling. After experiencing everything that occurred in the past, Allister's mom taught him everything she knew about duel monsters until duel monsters was as easy as walking to him. After 11 years of studying and understanding duel monsters, Allister got his first deck from his mother, consisting of all the best cards she owned or found or bought in her life. After 3 more years of getting his feel to the dueling world, Allister heard of Duel Academy, a place where he knew he could challenge the very best of the best. Allister then graduated from Duel Academy in hopes of becoming even stronger than he already was. Before leaving home to travel, his mother told him one thing, "Take the world by storm."