Image Link
It is too big to feature in my blog.
I was checking Chichiri's outfit because it's been a while, and this came up in the search.
It looks like Chichiri is letting Tamahome and Miaka use his hat... For couple things... While pinning Tasuki to keep him from interrupting... Very funny, but very unlikely.
Chichiri is one of my favorite characters, all around. Right beside Kurotsuchi Mayuri, and Urahara Kisuke. I also used to like Tasuki... But, Tasuki's beginning to look kind of ugly to me. (He's also too young, but Chichiri and Tasuki's ages later in the story, years later, are not disclosed. Tasuki might be in his twenties later on. I have never seen, or heard official word on if the two aged in that time, or prevented themselves from aging. It's kind of ambiguous.)
See anything at all in common? :-/
Chichiri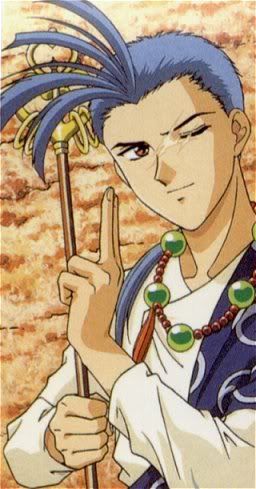 Kurotsuchi Mayuri



Too Big For Blog

Urahara Kisuke
Too Big For Blog
Similarities I see off the bat...
Chichiri and Mayuri both have blue hair.
Chichiri and Urahara both wear green, and green pants in particular. (That is my favorite color, to the point I am in fact attracted to men wearing it. Something I noticed in SWG. If my own character wasn't wearing green, so I wasn't already seeing it, I found male characters in it highly attractive. & I find lovely pictures of very green places quite beautiful in a manner that inspires a sense of longing to be there. I also personally wear a lot of green, especially olive shades.)
All three are among the most intelligent, and competent of men in the entire series to which they respectively belong.
All three either can pass as within five years of my age, or officially are. (However, I was an adolescent when Chichiri became one of my favorite characters. (And, now, I'm older than him. (But, he is a character who does not die, and possibly ages through the story, so that's not a problem.)))
All three have a touch of a big brother-figure, mentor-figure, guardian-figure, or father-figure type of thing going on.
Chichiri and Urahara both have Earth Sun Signs, though Chichiri's is on Cusp with the following Air Sign. (My own Sun Sign is on Earth side of a Cusp with an Air Sign.)
Throwing in a character not from anime or manga... Urahara, and Severus Snape have the same birthday. (Which is freakishly the birthday of my mother. Snape is even the same birth year as her.) (Snape is also highly intelligent, very competent, connected to the colors of black and green, has some issues (as do Urahara, Mayuri, and Chichiri), single (as are the other three), and I don't remember what else because our internet keeps crapping out to the point I forgot a point...)
In the manga, Chichiri is depicted with yellow hair, creating another similarity with Urahara.
Tendency to be expressive in body language, and to have points of doing cool poses... All three. Chichiri does hand gestures for his spells, and is an expressive individual. Mayuri is very expressive, especially with his hands. Urahara is very expressive, though not with his hands. (Body language expressiveness is hot.)
Not in common, but I do like it... Urahara's enshadowed eyes... My Scorpio Venus+Pluto likes some shady, dark, secretive, etc. things. Chichiri tends to hide his face behind a mask. (Two very memorable Chichiri scenes in the manga: 1. Miaka tries to remove his mask, he keeps putting it back on too fast to see his face. 2. His introduction has him hiding inside his hat, with Miaka suddenly wearing it for no apparent reason, which gets used to protect her.) Urahara's eyes tend to be in shadow of his hat. Mayuri has shady/dark posture. Urahara also sometimes has such posture.
Chichiri has a mask, while Mayuri wears a mask of make up/face paint.
All three characters are strategists.
Chichiri, and Urahara have a special hat usually on their person (like Indiana Jones). Mayuri also tends towards some type of headwear. (My favorite Star Wars race is Twi'leks. Mayuri has two looks reminiscent of them, and tends to have his ears covered, like a Twi'lek.)
They are all prone to traditional clothing, though Chichiri is Chinese.
Mayuri and Chichiri have odd colored eyes. Mayuri's being yellow, while Chichiri's are allegedly red. (They look brown to me, but the wiki claims red.)
I'm honestly not sure which of the three I consider more attractive... My chart is so balanced between the zodiac Signs, and elements, including in what I like in men, that having a precise, narrowed down preference between characters can be difficult if I don't hone in on something specific to focus.
(Libra & Scorpio Second house (tastes, values, and the possessiveness part of a relationship (
my
boyfriend,
my
husband, etc.)). Sagittarius & Capricorn Fifth House (lust, passions, hobbies). Pisces & Aries Seventh House (partnership, marriage). Sun Sign Virgo. Moon on Cusp between Pisces and Aries, barely on Pisces side, in the Seventh House. (Needed in a partner.) Scorpio Venus+Pluto, in the Second House. Capricorn Mars, in the Fourth House. (Allegedly related to preferences, though I mostly beg to differ, as Mars is about personal identity. (My take on Mars is proper, though unpopular, and uncommon. And, it's in tune with Mars House Synastry, where Houses that should be good if Mars were to do with relationships, actually are commonly said to cause fights about ego/identity instead.)) Pisces Jupiter in the Sixth House, but on Cusp to the Seventh House. (Meaning it might be important in my partner choices.) Sagittarius Juno, in the Third House (odd Housing, since I'm SM). Vesta in Aries, in my Seventh House. So, Earth, Fire, and Water are all important in a partner for me, and all attractive to me. Ultimately, Mayuri is who I'd wind up marrying (Fire & Water go to my marriage matters in particular) if these three were real and in my life, but all three are attractive (Earth is still highly appealing for someone to have a temporary relationship with (Fifth House Ruler & Sun Sign)), and I'm not sure which to declare the most so.)
Note: Our ISP did not fix the neighborhood cables, so we are not getting the internet we are paying for, despite we just increased what we're paying for. It's pissing me off, almost rendering me without internet entirely at times, slowing down my online activities incredibly, and probably worthy of filing a lawsuit. I seem to be rigged to be at the bottom of access over the entire rest of the house to top it off. OR, someone is stealing from us in a way pretending to be using my PC to top it off. (Several times, one of which yesterday, I've had a message that someone else was using my PC's personal number in our network, creating a duplicate.) So, my posting things on this blog is down, as you may have noticed. (We do have a history of our neighbors stealing our internet. There's at least one who can hack through just about anything set up to keep him/her out. And, there are very bad people in the neighborhood who steal internet for illegal activities directly from the telephone poles... Some nearby neighbors have done that to us in the past, too, (stealing directly from the telephone poles, and wires there-on) though likely not for illegal activities.)