"This will be a long long journey.!"
(Click Avatars to Vote and/or Comment)
~In order to know the truth behind the strange crop circles that surround Selfwield,Ringo Clasfield a 16 years old boy begin's he's Adventure with a Katana that he called "Clasher" to a world that he never knew that existed.
TAB!!!: Marco Retshield & Apo
Marco:"Did those monsters know how much this clothes cost,Apo.?!"
Apo:"I don't think they know sir Marco.!!!"
~At the same time when Ringo Clasfield begins he's journey,a Pirate know for having a long-crimson red hair was fighting with some Monsters know as the Veltitas,that they where attacking he's hometown,Marsul.
With he's trustworthy friend Apo(a talking mouse),Marco Retshield begins he's journey,knowing that what he will see it won't be common.
TAB!!!: Snowrowhee Hetshell
"stop calling me a kid...I'm 7 years old NOW.!!!"
~When Ringo was traveling he came to a town know as Itolan where he knew a little boy named Snowrowhee Hetshell.
He's intelligent but arrogant,strong but childish and honest but the victim anyway a little boy in all the sentence.
Using a weapon called Iceshard that can freeze everything that touch,he decide to follow Ringo since he's an orphan,but what he don't know is that destiny is playing cards alright.
"My name's Valkyrie Melphet...nice to meet you."
~When Ringo and Snowrowhee left Itolan,at nigth a mysterious woman appear before then with the name of Valkyrie Melphet with a black horse named Rayore.
She spoke to then,telling then that she was summon by Velfimite Urelious a Dark Mage from Afromia,they get shock instead because they haven't know anyone by that name.
Valkyrie Melphet with spear in hand named Safiro joins Ringo and Snowrowhee.
TAB!!! OVA: Talaitha's Sidequest
"I'll find it...eventually..."
~Talaitha was born with the extraordinary ability to find anything she set out to look for. It might not be the fastest or the safest route, but she would always make her way to any destination she set out for.
When her longtime childhood friend, Ringo Casfield, left one day without warning, it didn't take Talaitha long to set out in pursuit. Whether she knows it or not, she's about to embark upon the adventure of a lifetime...
TAB!!!: Viking Larudo Kiffnich
"So you're Marco Retshield,I'm right?!...I'm Viking Larudo Kiffnich,at your service."
~The story take us back with Marco Retshield...
after he left the village he encounter with this man named,Viking Larudo Kiffnich.
They prepare for battle,but Larudo tells that he was summoned by Velfimite Urelious to protect him,he get confused,but accept him.
Larudo fight's with an axe,named "Shogaraizo".
"We all are one in existence,so we were destined for this!"
~Ringo and company in their way to Afromia,they knew this Elf named,Erufu Waboken.
He's intelligent,curious and sentimental,so when he saw the Valkyrie,he get crazy,because he never saw one before.He ask Ringo where they're heading,so Ringo answer "to Afromia!",he get really excited and ask Ringo if he can follow them.
Ringo accept him knowing that he will be(maybe!) a big help in the future.
TAB!!!: Velfimite Urelious
"I open the gate of Valhalla...come forth!...Valkyrie Melphet!!!"
~Ringo & friends finally arrived to Afromia & place where the famous Summoner Velfimite Urelious lived...after expend hours at the Inn they finally meet Velfimite.
He said that they need to get to Lal Ruins,Ringo ask why they need to get there,so Velfimite respond,"Our Humanity face a big problem & we are Faith".Ringo always get confuse,but knowing that Velfimite tells the truth,they continue to Lal Ruins.
TAB!!! OVA: Vivienne Veviter
"Maintain the front Veviter. This is royalty we're dealing with"
~Vivienne Veviter delivered priceless jewellery to influential figures in different regions. The Swamp of Records held the Stone Portals she used to get around and Vivienne got very frustrated with all the travelling. She had just returned through The Stone of Torrential Currents, from delivering a package to The Ocktekla, and was promptly sent into The Stone of Swirling Sands to deliver a headdress to The Harpy Vulture.
"What are you saying!!!?"
~On their way to Lal Ruins they meet with Marco Retshield, after some time of explaining everything to him, he joins the group.
Then the group met Josenshi a brave, funny yet serious, female warrior. She was trying to go there, but she don't want to go alone, so she joins the group. She figths with a sword named Regald.
"...you shall not pass my judgement, Nibelung Celestia!"
~They finally get to the gates of Lal Ruins, but suddenly a fall apart space open and began to rain, then suddenly from the sky a Valkyrie came down. Her name's Eiryclav and she was the gate kepper of Lal Ruins. Everyone gets on guard in order to survive Eiryclav's Nibelung Celestia, but having Josenshi, she told everyone about her technique and they manage to defeat her.
TAB!!! OVA: Sabaku Dorobo
"...mind your own bussines.!!"
~In Mahnma, live a thief named, Sabaku Dorobo, girl with unique abilities of taking what is not hers. Lives on a roof, side to the central tree. She leaves every day to robbed and work. Her attitude is mean and dishonest, she likes apples and get in to trouble. Working as a "Thief's Contract", she will work for people, to robbed things. Owns two swords on her belt, Sapphire & Ruby.
TAB!!!: Risuko Clasfield
"...don't compare me to my brother, we don't have anything in common.!"
~Risuko's 15 years old, serious, unfriendly and bad mannered boy. His brother Ringo Clasfield go out on a journey, so he is mad at him, for not invited him. Knowing that he will take credit by restoring Selfwield from the crop circles, he took his greatsword named Regash and began adventuring to find his brother and claim some credit for the restoration.
TAB!!! / Hakiren Kenshkem
"I live my life as I want! -smile here- "
~While Risuko was on his journey to find his brother Ringo, he suddenly find this kool guy named, Hakiren Kenshkem. Risuko finds him very rivalry type of person and began to fight with him...without a reason. Risuko gets beaten by him with his skill, Blazer Uppercut. Hakiren told him that if he wants, he could join him and Risuko says "Yes!, but what's your purpose!? as Hakiren answer "In time you'll know."
TAB!!! / Drapoel no Shiro
"Your first trial is completed, yet your second trial, is me!"
~ Back to Lal Ruins where Ringo & others defeat Eiryklav, another fall apart space open, but this time they were weak and a new warrior came out. Named Drapoel no Shiro and with a sword named Graphel no Dye. He explain, that they need to pass two more trials, including him. Using his "Black dot red" technique, they were defeated, but suddenly.....to be continue!
TAB!!!: Ringo's Awakening
"Let's your fate be decided... Death's Rule!!!"
~The Ringo's jewel began to shine, awakening the truth. His outfit change and his eyes turned purple. He stand, to counter attack Drapoel's 'Black dot red'. Using his 'Death's Rule' technique, he beats Drapoel, then he used 'Life's Rule', healing allies.

...an evil laugh is heard, saying "Good job!, Neon Glyphe!"... to be continue!
"Pardon my looks, but I fought with a guy and his inky problem... I guess."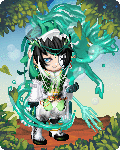 ~ By the time, the place was showing its true form, an evil laugh was heard. Her name is Quysterns Velph, an with a very unique style, she reveals the truth behind the crop circles in Selfwield, Veltitas problem in Marsul & Ringo's Awakening into Neon Glyphe and possibilities to fix those. She fights with the magic, known as H2O. Suddenly Risuko and Hakiren joins the group.
To Be Continue(someday!)...
-----------------------------------------------------------------------------------------------------------------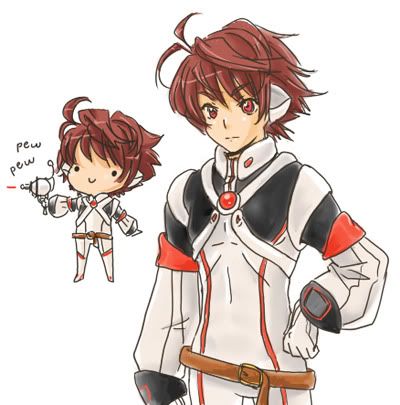 by 'anonymous'