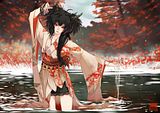 "AHHH!" Screams where heard from a little hut way up a hill away from the village below. The priestess Dai got word that the woman; Kaede, had gone into labor. "Then I will take my leave," She took what she needed and left.
"Priestess Dai is so brave to go to that woman's home, and how forgiving she's been to her. I mean; one of our own kind, mating with a demon, and now baring a child of the same being she mated with. DISGUSTING!" A woman from the village spoke to several other villagers as they gathered awaiting any news of Kaede and the demon child.
Kaede lay on her made hay bed covered in sweat as she screamed in pain, and to make it worse a storm just suddenly appeared out of no where making it difficult for Priestess Dai to get to the hut. The pain subside for only a moment. Kaede breathed heavily praying that her child would be born healthy, and safe. "I know I've done you wrong God, but please do not take this child away from me. God I implore you keep my child safe!" She winced and she threw her head back screaming yet again as a massive wave of pain surged through her body.
Just then Priestess Dai finally arrived and as she stepped inside cries of a infant child were heard through out the hut. Priestess Dai looked up to see Kaede & baby in arms, but the worse that she saw was all the red. Blood was everywhere. "Kaede!" She spoke out panicked feeling that she was too late. Kaede was pale as a ghost, and looked up at Priestess Dai. "D-Dai...you've made it...I knew you would." She spoke softly. "Don't talk Kaede. You need to regain your strength. For you and your child." She said to her hoping she'd pull through this. Kaede smile meekly to her and then down to the baby in her arms. "It's a girl Dai, A cute little girl. She looks human like me, but she is very much like her father. Look." She handed the child to Dai. Dai looked, and noticed the child's attributes. Her skin was like porcelain; flawless, her eyes a forest green & wild like a demon. Then above her little head two little horns.
Horns
. Now she understood all the blood.
"Dai. You know don't you? There's no saving me this time." She said to her dear childhood friend. Dai turned to her and as a Priestess you are not show emotion. However, in this situation she didn't care. "I know, but it's not fair! Why like this? You have your child! She's here! Why do you have to die?!" Dai cried holding Kaede's child still covered in Kaedes blood. "Would you promise me something Dai? Please, watch over her. Humans won't understand her, and I fear for her life. Protect her as long as you can. Can you do that for me Dai?" She asked her dear friend as she placed her weak hand to her crossed arms. Dai nodded still letting the tears roll down her face. "What would be the child's name?" Dai asked. Kaede looked at Dai and then at her daughter. She saw the blood on her, and her eyes wandered at the blood at the edge of her feet. She laughed a little sad, and looked at Dai, "Akako. Her name will be Akako. Don't look at me like that. I think it's fitting. Don't you think?" She laughed softly knowing the name Akako meant '
red
'.
"You really are a tragedy Kaede. I wish you the best where ever you may end." Dai did a prayer for her. "All I wish is to be with my beloved once again. Even if that means meeting him in hell. Good bye Dai. Good bye my little Akako." With that last said Kaede took her last breath and left the living world.
20 years has past and as Dai promised she took in Akako as if she were her own. Many from the village didn't like the idea of a half demon being among them saying she'd only cause them nothing but trouble. Dai promised them that she'd be the one to take care of her and that there wasn't anything to fear. Unfortunately, for Akako; Dai couldn't say the same thing.
As Akako grew up she'd always been bullied. Mud would be thrown at her; rocks, sticks. You named it. She'd be called names, but names she could do with though they did hurt, but the physical damage she'd would wanted to live without. Now the years past, and Akako at first was just pretty. A basic normal looking
ah-
demon girl, but every year that past she became lovelier, and more beautiful then the next. Which began to get the attention of the human males in the village; though Akako wasn't interested in them at all. In her defense who could blame her. They did nothing but spite her, bully her through out the years she's lived in the village, so why should she feel any affection towards them.
After 20 years Akako has learnt a lot from Priestess Dai or 'Mama Dai' as Dai told her to call her. She learned medicine, some healing spells, warding spells to ward other demons that weren't at all too friendly or trustworthy. Akako actually specialized with water, and could do anything with it. Dai made sure to train her to her fullest potential so when she past on Akako would be ready to face the real world.
[Now here is where you talk about your character. You can have him start somewhere else. You can make him into anything you want. I prefer a demon, but you can be a human too. Like a Samurai/ninja/etc. This is feudal Japan.]
Human form: