-
Good, uh.. evening everyone and happy Canada Day! I'm feeling better, thanks for asking.
OK, I know I said I had the rest of the story written out. And that's kind of true. But it not really done. So have some more back story! Haha ha.. I'm sorry.
Centuries

past without a problem. But before our protagonists were born, the previous ones sealed their fates. Which would lead to the next blessed kid to be curse, and both child and companion to be the last of their kind. It was when the war had ended, the Demigod, along with his Guardian, died during battle. It would be decades years before another blessed child was born, and the older ones were no where to be found. So because of this, the divines punished them- all of them. The stronghold was in turmoil, and not only did the humans began to grow sick and weak, but the community hold lost their ability to turn into the creature they were born. Things did not go well for many years. And as few survived the generations passing, and the talk of the Divines were nothing more then a myth.

It was foretold by a mysterious traveler that the blessed child was to be born again, but only two years after they've found their Guardian. The elders of the stronghold took precaution. No one had any returning powers, nor did they expect a blessed child to be born after what had happened. Some time had past and without warning, our young Guardian is born. It wouldn't be until he was 2-3 years of age, that he and his family discovered his ability. He was a Lion. He would have to learn to control his ability on his own, and he will. It was the Divines that gave him the knowledge to. It was also then that the Demigod was born.. but to an unknown family. See, the mother did not know how to raise him. She left him with the elders, who were too old to take care of him themselves..so they let the baby live with the Guardian and his family.

They are put together at a young age and from there, a friendship formed.
Sadly, to be continued. OK, see, this is why I didn't want to post my story too soon- there are minor things I still need to work out! Like, perhaps this character isn't a demigod, but a half-creature himself or something... I dunno. I'm still thinking about it. I have an idea of what they might look like, too, but I only drew what
the Guardians
's face would look like. Handsome, ain't he?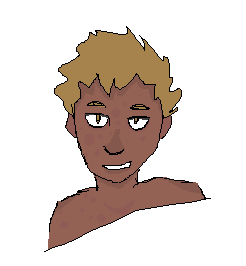 Plus I meant to say centuries in the last entry instead of decades.. oops.
I'm going to be totally honest with you-- this wasn't even the story I planned to write. I just had one idea and that kind spiraled into something really cliche and I went with it. I like it. You'll probably like this one more though, so I thought I'd share it as well.
It was actually going to be about a ghost who befriends a cat. There was an older lady who lived alone and passed away because she was very sick. She had no family and no friends to visit, so she also was quite lonely. And for some reason, her spirit could not move on.. and now her ghost roams the old house. Year later a family moves in, unaware of the ghost. But she doesn't haunt them! In fact, the family had a cat who could see the ghost lady.

Sadly, she could not pick up the cat, or even touch him/or her.. and that made her sad. But whenever they would meet, the cat would follow, and even playfully chase the ghost lady around the house. And even napping close to her. Soon they became friends who would keep each other company.. and so, the lady ghost wasn't lonely anymore.
I guess that's it. Have a good night and stuff~