Name:
Tsukiko Inugami
Avalon Nickname:
Yue (sort of a Chinese way of saying her Japanese name)
Gender:
Female
Age:
17
Hair:
Long and black, usually tied up with a red ribbon
Eyes:
Reddish brown (turns red in certain light)
Biography:
Born from a Japanese-Chinese father and Japanese-French mother, "Yue" has always had an interesting childhood. Because of her father and who he was, during the course of her early life, there were many attempts to kidnap her. So, from an early age, she was taught in several forms of martial arts and became a dead shot with a bow, a gun and any other throwing weapon. With all these unorthodox teachings, Yue grew up to be very masculine, wearing male clothes (not only for comfort but also because it was also easier to maneuver in them in a pinch). She hates her overly feminine name and chooses to be called "Yue" (which means "moon" in Chinese, compared to her Japanese name, meaning "moon child"). Her parents despair of ever finding her a boyfriend, for she says that she'll never marry unless she can find someone who is taller and manlier than her and who would love her just the way she is. Yue doesn't have a lot of friends, also probably because of who her father was, so she grew up a bit of a loner, studying and training on her own, until she meets Akari and the rest of the girls. She slowly becomes more open to the rest of the world. Currently, she is part of a band called Avalon that features her as the lead singer and occasional guitarist (she can also play the piano and violin, and several other instruments), and goes to a very exclusive and private all girl's school which is merging with another school and becoming a co-ed school. She is also president of the Student Council and is known as the "Crimson Rose."
Personality:
Because of her masculine ways, she's always ever the gentleman. She treats all women (and some men) with courtesy and respect, with a dash of knightly charm. Always calm and level-headed, she does have a temper which doesn't show itself often because she has always been schooled to keep her emotions secret. Like her father, she can also be very calculating and would rather not resort to violence when a few words could skewer someone as well as any blade. Although she doesn't try to overly flaunt it, she is a bit of a genius and excels in everything she does, modest and not a snob. However, if she just so happens to not like you, she would exhibit a bit of snotty-ness, just to annoy the other person.
Family:
Yue lives with her parents in their huge mansion. Her father is known in the business world as the "Mad Dog," because once he gets a hold of something, he never lets go; he can sniff out any deception and is a shrewd businessman. He battles against corruption and he always seems to know everything about everyone. Where he gets this information or who his sources are, he never says, which is why he is so feared because with one phone call, he could ruin someone's career.

Her mother, on the other hand, is a former actress and model. She is also well-versed in the Japanese arts of dance, music, tea ceremony and flower arranging and is an exceptional cook. On occasion, she would do some acting or some modeling but, for the most part, she likes to stay at home and tend to her extensive gardens. Her younger sister loves to take advantage of how good looking her sister is by going out on "fake dates" with her and make her friends and other bystanders jealous of her good fortune. She also uses her sister to get rid of all those "nasty" guys that she doesn't like and Yue can never seem to refuse her and takes it all in stride. Her sister is also the "manager" of their band, Avalon.

Yue also has quite the extended family, including an uncle (on her father's side) who owns a martial arts dojo and an aunt (on her mother's side) who is an internationally acclaimed fashion designer whom she calls "Tante Maria" (Aunt Maria-Claire).

Description:
Yue has black hair that goes to somewhere just below her shoulder-blades, a medium sort of length. Her eyes are reddish brown, although in certain light, they look red. Because of all the work outs and training she's had, she is well over 5 feet, just maybe below 6 feet. She normally likes to wear expensive designer clothes that are elegant but comfortable and a bit understated. However, with her tall frame and broad shoulders, she looks very handsome in whatever clothes she wears. Some outfits she might wear would include a loose fitting dark red button shirt with maybe the first two or three buttons unbuttoned, a casual dark jacket and black suit pants or jeans. She has a piercing on her right ear with a red rose earring and she might wear other accessories like a loose, dark tie, necklaces or maybe some bracelets and rings. However, because she likes the "understated" look, she doesn't wear too many accessories, maybe one or two, to keep that elegance that she's trying to portray. Since her clothes are a bit loose, there is no real hint of a chest so she's pretty "flat" as opposed to some girls but she doesn't seem to mind. At school, she wears the male version of the uniform.

References
Casual Outfit - Yue's outfit would look a bit like this, with the dark red, loose buttoned shirt. She may or may not wear a tie loosely tied around her collar. The jacket she wears has a dark red pattern of roses and vines on it and she wears dark washed dress pants or jeans, with dangling chains of crosses. Her hair is black and parted like this and you can usually see her one red rose earring on her right ear. Her hair is long enough that she has to loosely tie in with a red ribbon. She also likes to wear a bit of jewelry, usually in the form of a stylized cross or a rose key. On her feet, she wears black dress shoes.
-------------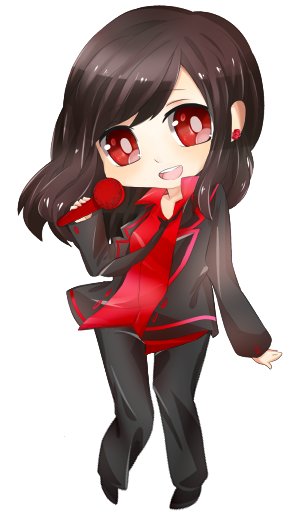 ~By kagefumi!~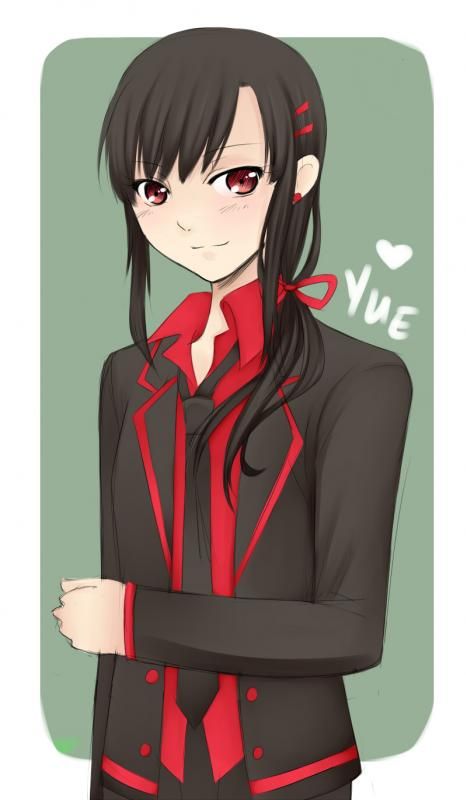 ~By Aseliina!~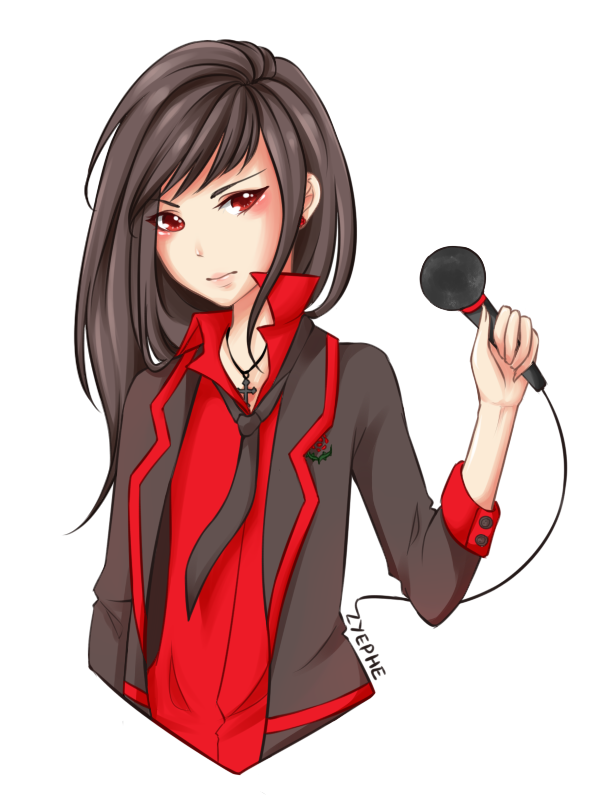 ~By Zyephe!~
~By Thyresis!~
~By Giyoo!~
~By peppermint desu!~
-----------------
~Refs by other people~

1. archangelling
2. princesashini
3. cbcg11h1xj13 (Roli)
4.HeavenlySatanic (Roli)
5. Blow Dry (far left)
6. sutekisteak
7. kagefumi
8. AsterKurayami (Yue as lead singer)
9. DJ EZ-REAL
10. Lady Ignea
11. Patriklus
12. Giyoo
13. Aseliina
14. Reiuna (group shot!)
15. Illycia
16. peppermint desu
17. n e o n poptarts
18. Thyresis
19. LitaKoyuki (group art - Yue in red)
20. Zyephe
21. CioccoLatte
22. Gunmi
23. Humanismu (Roli)