Hey ELY! It's Leo, I met you...3 years ago I would say? Somewhere around there I don't member xD But, I don't think we started talking much at first then out of nowhere we become like bffffffffs. We would always hang out and I remember you made a YT video with me and you xD That was so goofy!

Then out of nowhere I just stopped getting on Gaia, and lost contact with you

I came back remembered your username and then BANG we come close friends again! And yes I Wore a TMNT hat with my long hair for the fun it! Hope you enjoyed that cause that is never ever gonna happen again! EVER! Anyways... So I'm happy me you are still close friends because you are truly one of my closest friends on gaia period. Remember to text me when you are at college sometimes

Don't forget about me! Or else I'm gonna get mad at you and never talk to you! No kidding

But on the real, Ely you are one my homies for life! Maybe we can meet up one day later in the future?

You are extremely far away though.. But still ! We can go drink starbucks or something xD Now that I think about it you are one of my longest friends on gaia I still have contact with. The others left me or quit gaia cause they losers. But I still got you !

I'll always be here in case you need to someone to talk to or just in general, you have my number! I hope you And Yoshi don't have problems later >_< Cause that would suck :/ You are Peach and he is yoshi? xD OHOHOHOHOOH Do you remember that time you had long hair? I miss that long hair ! You looked to beautiful~ Wait.. You still are beautiful !


Haha , that's the truth! But anyways its gonna suck with you leave to college, I hope you do well though, and get through it and BE SOMEONE IN LIFE! And maybe you can own a company and hook me up with some things ? Lets Hope ! Ely, you are one of my greatest friends and I never want to lose contact with you again

I prey life will go amazing and perfect for you in the future , and to never let horrible things get in your way. If they do, I know you can survive them and come through, I love you like a sister from another mother, that's how close I consider us xD If that makes sense... Well this is your letter, and I hope you like it! BYEEEEEEEEEEEEEEEEEEEEEEEEEE


- GOOF BALL LEO"SLAYS" MENDEZ
Hi Princess. I'll try to be short since I tend to go overboard at times when talking! I don't think you know how much you mean to me as a friend. You'll never know. I can't thank you enough for being there to hear me out and to listen to what's on my mind. You're one of the few people who do that for me. I hope I can do the same for you. Thanks for giving me so much belief and hope when I'm feeling hopeless and down.

You make me realise that there's not much I should worry about, and that I should chill, sit back, and enjoy the ride. But if a rollercoaster is anything like my life, then they sure do scare the hell out of me. Thanks for being that friend to hold on tight to when I'm in doubt of falling out of the ride. You often have comforted me and put my mind at ease when I'm confused and cannot think. You're a great friend Ely. Your heart is made of gold. You're an amazing individual with an amazing personality. I don't know what I'd do without you. You've given me so much support through everything. It's amazing how you can stand to be around me hahahaha. Seeing as I've been upset for so many times.

Also, I want to mention that, you are a very beautiful girl. You deserve the best. Especially with a kickass personality like yours. I want whatever guy to get you to deserve you. He has to be really amazing to have you. You deserve nothing less. I want you to be happy. I want your life to be filled with all your hopes and dreams. I want you to achieve whatever your heart desires. Stay strong Ely. Always do your best. Always try to reach your true potential, because I believe you can do amazing things. You're so caring, and so admirable. Any guy would be lucky to have you.

Whatever person hurts you in life doesn't deserve your friendship. Protect yourself, and try not to get hurt. I know that's easier said than done, but listen to your gut instinct. Because I'd be sad if anything happened to you or upset you. Whatever you do, don't let your heart rule your head. If you feel that something is wrong don't stand by and ignore it. You need to listen to that voice inside your head. Because that is what is going to protect you. I know you've been messed around by others, and I don't want that to happen to you again. You're too special and cute to be upset!

Like I've told you before. Don't ever change, and mind yourself. Don't give just anyone your heart. Make sure they're just as special as you. Make sure they deserve it. I love you Ely. You deserve to be loved whole-heartedly. I hope you find your prince, because a princess like you deserves to find him.
- Phae
AYY!! hacked by Dorky. Ely is a wonderful little,short asian gal with a big,tall bundle of joy and laughter,she RARELY gets mad and is always happy (most of the time) ,its very hard to get mad at her :3. Ely is really nice and has awonderful bf (even though he hates my guts..). She is also very generous. ^3^ Never mess with her cuz you'll go to heaven...i mean Hell..anywayzz...thats it
&3 Dorky
Ely~ is the best person i ever met. Shes kind and gentle to me & others.
To all you haters out there, if you hate her that means your just jealous of her.
Ely rocks and that's why were best friends :3.
~ Rob
HAI THAR!
This is Jo!! Ely's gaia bro of three/four years
This girl is awesome! She is so sweet and nice and she's the best gaia sister you could ever ask for! She is so cool to talk to and and also because she likez Pokemonz :B She might be nice but she can also rip your head off haha.
I don't know what I'd do if she wasn't my gaia sister. She is so awesome and she's helped me so much. She's been there when I needed her and I hope she always will.
Lots and lots of LOVES,
Jo (Wumborama)
B T Dubs. You mess with this girl I'll rip your soul out (:
ELY, Ely. ely...
This girl right here is funny as fudge. When we go on tiny chat, I think I honestly make her laugh a s**t load o_____o.
MMHM GURL PASS OVER DEM CUPPY CAKES CAUSE WE BE PIMPIN THE GETTOOO.
Anywho.. ;D I could tell her almost anything I guess. Like the fact I love asain boys. &n & oh god. I might have a Blasian baby... xD
What else, OH one of out memorable moments is cuppy cakey. I was cuppy moo, she was cakey moo.
THAT'S RIGHT BOYS AND GIRLS, SHE'S TAKEN &:U sometimes, since I'm that wife and she's that husband. Because of her and Rob I've met a lot of cool new people &:
Mark, Tina, Carl, and... eh theres more but... EHHH LMAO.
That's about it for now. This seems more like an about me than a hax...
OH AND DUN MESS WITH HER.
(added that because other people add that in a hax)
so unoriginal hurr.. v A v
K baii
Fr- Love,
Chy Chy

Ely, you make amazing Mongolia cupcakes. Gimme some. Now.

-Love Doodle
Elyphantastic.
Where do I start? Well, every day I can't help but smile at my screen like a loon
whenever your bright personality just resonates through your typed words.
I believe I speak on everyone's behalf when I say that we absolutely love it when
you hang out with us. You're the life of the party, and everyone is anxious
and pleased to please you. Everyone loves your heart warming kindness,
your generosity is outstanding, and your enthusiasm and outgoing personality
is incredibly lovable. Ever since I met you I can honestly say I have been
much much happier. Thank you so much for all that you've done for me, the people
you've introduced me to, and most of all being my friend. Love you lots!

~Tinah Winah
Ely im giving you a shout out, i love ya my goofy girl ;D haha

-Mommie Sam
Ely~
Shes my best friend and one of the few crazy people i can stand xD i come to her with almost everything and try to stay by her side when shes got problems, i love her to bits, she can understand my problems and i understand quite afew of hers im always glad to talk to her, it reminds me of the good times we've had, Ely will always be my little kitten, i promised one day i would take her around the world and we'll egg all the houses of everyone whos ever done her wrong. and that i'll never leave her alone, I love her alot and i plan on keeping my promise no matter what happens. We've had way to many ups and downs to count, we've both been constantly mad at eachother over small things we've gotten into long arguments and even longer anger episodes towards eachother but we always happen to come out together even when it looks horribly bad, we've spent alot of time not talking to eachother and alot longer with eachother, alot of people would've just given up after the first few times but we keep holding onto whatever we have here and im glad shes still here, we gossip like spoiled blondes and even shop for cute things together 8D! she makes me a flamer in every meaning of the word and i willingly accept that side aslong as shes the one doing it to me xD I love you ely

-Buvic Adalwolf
Other stuff from friends:
I know, I know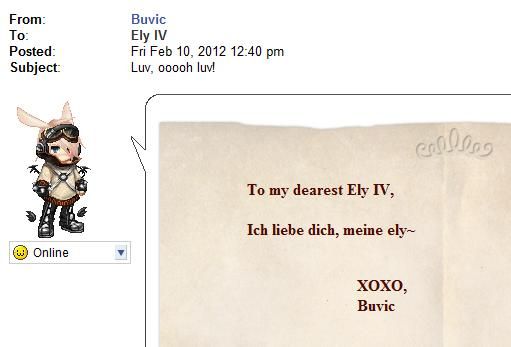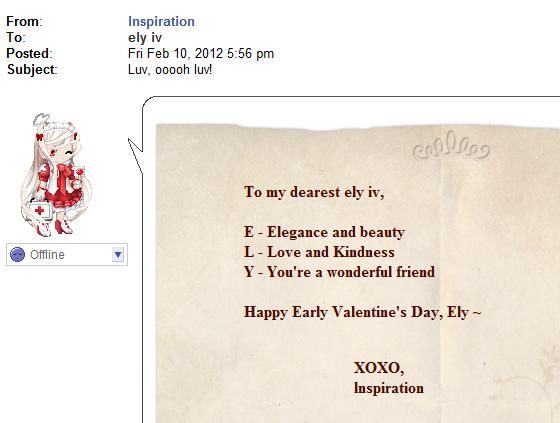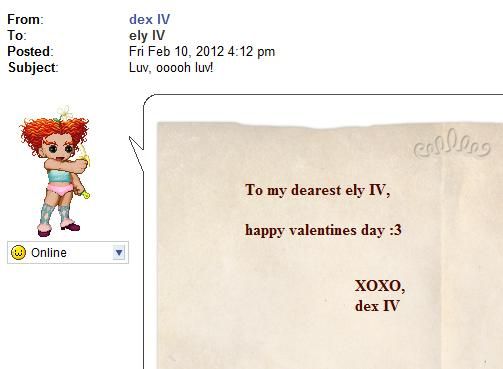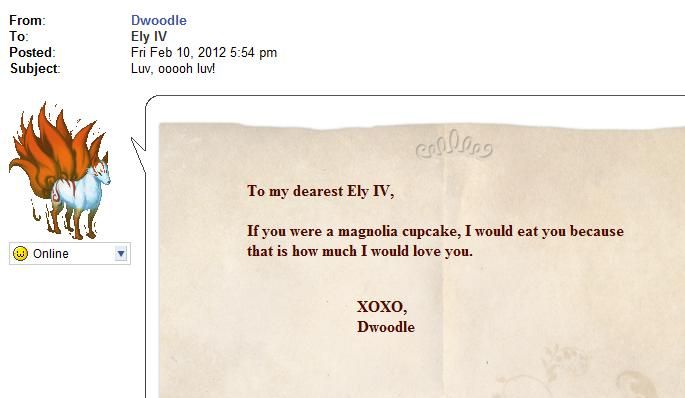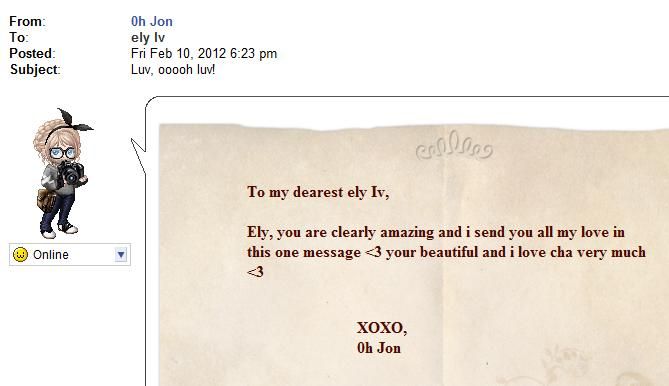 [/size]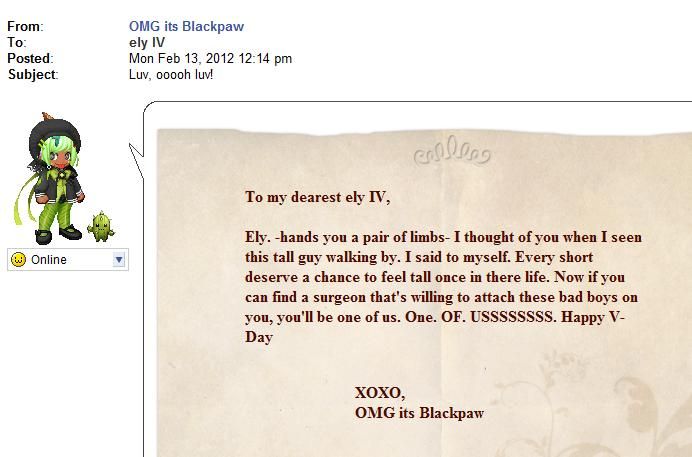 [/b]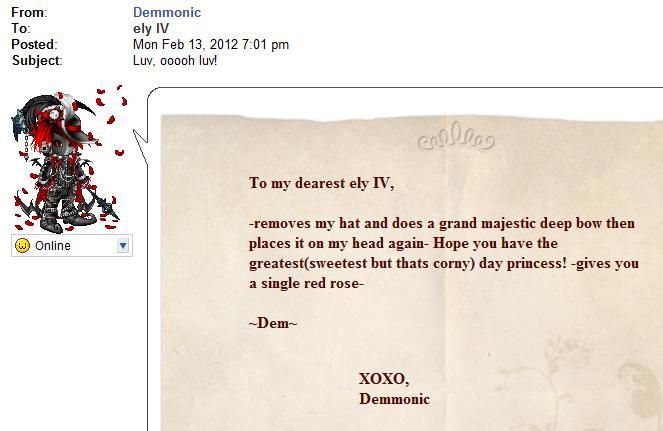 [/color][/align]