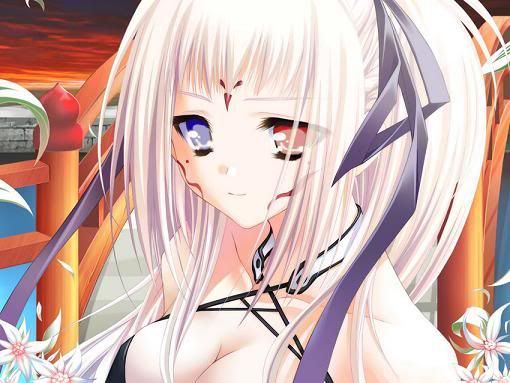 Basic Information::
Currently Known As: Rose Fate Inazuma Takashi
Families She's Related to: Hatake,Uchiha,Takashi
Her Nicknames: Horo,Ayane/Rozu/Rosebud ( only ashu-kun " ashura " can call me that ),Rosie" Leafy Rosie ",Rosey,Aya,Chii,Ro-Ro,Simca,Tifa,Lightning " Light ",Kitsune,Ayame,Mandi-Chan
Date of Birth: July 23.
Gender: Female.
Species: Vampire Mix ( PureBlooded Vampire,Wolf,Dragon.ect. )
Race: NA
Occupation: Demon Hunter,Assassin
Sexual Orientation: Straight
Marital Status: Taken
Previous Life Data::
Birth Name: Rose Inazuma
Date of Birth: NA
Species: Human.
Relatives: Mother - Koroko Inazuma. Older brother - Alek
Appearance: NA
Age of Death: NA
Rebirth Data::
Rebirth Name: Rose Fate Hatake Inazuma Uchiha Takashi
Date of Rebirth: July 23.
Species: Blood Mix
Relatives: Mother - Koroko Inazuma Father - Sealriel Father - Nightz Hatake
Appearance: Long silver hair, red-blue eyes and a somewhat pale white skin.
Age of Rebirth: Eighteen.
Personality:: Rose is a a kind,warm hearted spirit she cares take of her dear friends and family well she has a motherly personality to some people and a killer side to tho`s who hurts the one she loves at times shes sensitive so shes shows her " other side " but only to her love tho.
Hobbies: Reading, sleeping, watching people fight, drinking.
Values: Friendship.
Loves With An Obsession: Candy, food, mice, animals, chocolate, sweets, blood, adventure, darkness, books, nature
Hates With A Passion: Strangers, backstabbers, liars, people with no mind of their own. stupidity, overly flirtatious people, insects, inconsistent drama, people who don't put up a fight, boredom, boring people.
Appearance::
Hair: Long layered blonde/silver hair, usually tied in a loose ponytail or a braid with a few strands falling over her forehead and left eye and framing her face.
Eyes: Silver eyes with a slight tint of gold there main color are red and blue.
Skin: A somewhat pale flawless white skin.
Height: She stands at 5'6'' tall.
Clothing: Rose tends to wear almost vary little or barley cover up clothing tho she also wears her short black kimono with a red butterfly pattern or her china dress open on the top showing a bra looking black top.
Abilities And Combat Data::
She can take about 90% of damage inflicted on her and absorb the rest and turn it into a healing power, so every hit dealt to her will cause damage, but it will slowly heal her, cancelling out any attack dealt to her. The bigger the attack, the faster she'll heal.
Weapons: Bloody Rose - a silver gun with a vile looking mark on the left side with its name on it- Blade of Light - a healing sword was given to her by her father Nightz - Red Butterfly - a blade with a red painted butterfly on the side of the blade that was given to her by her mother Koroko - . Bone Blades - in her arms and legs -,Blazefire Saber (Gunblade),Sakurobo,Knuckles ( gloves) ,Tiny Bee pistols,Rod
Strengths: Hand to Hand Combat,Strength/Power of one-thousand men.
Rebirth Data::
Rebirth Name: Rose Fate Hatake Takashi
Date of Rebirth: XXX
Species: Human
Relatives: Mother - Koroko Inazuma Father - Sealriel Father - Nightz Hatake
Appearance: Long purple hair or mix, light blue eyes