Name:
Rose Hatake
Full Name:
Rose Fate Hatake Inazuma Uchiha Takashi
Age:
20
Blood Type:
A+
Height:
5ft,?
Weight:
102
Birth-date/Sigh:
7/23/XXXX - Leo
Race:
Human
Hair:
Long white hair, Long black
Eyes:
Mako Color Blue/Red ( Val ),Blank blue ( blind ),Mangekyou (Kaleidoscope) Sharingan ( Left or Both eyes )
Body Type:
Slim ( Sexy ) Athletic
Auto-mail:
Left Leg,Right Arm
Personality (Normal):
Kind,Warm Hearted,Motherly,Calm, Perverted ( With love only ), Focused, Caring, Protective
Personality (Demon):
Heartless, Deadly
Job:
Demon Hunter
Faction Rank:
Leader ( Currently Ex Leader )
Pets:
Bat named Batty,Cat named Kilala
Eidolon:
Odin
Crystarium Color/Crystal:
Pink - Rose
Dragoon Spirit:
Darkness-Black
Classification:
Magician - Saint
Affiliation:
Anglican Church (Necessarius) - Amakusa-Style Remix of Church (Priestess)
Abilities:
Stigma - Amakusa Style Combat
Powers:
Element Controller ( thunder,fire,water.ect but is now handled with charms ),Spiritual Purifier,Chidori
Strengths:
Hand to Hand Combat,Strength/Power of one-thousand men.
Abilities:
Life Aura,Healing Kenki,Eidolon Summoning,Lightning Speed,Rose Control/Barrier
Lover:
Ashura Takashi
Dragon Partner:
Ren the Draconian
Friendship Bonds:
Ashura Takashi, Ishida Mitsunari,Miko,Akiyama,Chigusa Takashi
Enemies:
Maya, Date
Dream & Hopes:
To live a happy life with the person she truly cares about.
Title:
Leader of the Inazuma Clan,Protector, Guardian,Queen of the Moon,Red Rose
Relatives:
Father Nightz,Mother Koroko,Big Brother Alek,Twin Sister Freya,Little Sister Mia Elizabeth,Grandpa Gen Hatake,Jack Hatake,Haruka Inazuma,Grandma Dainty Inazuma,Sons Riku ( first marriage),Haruka( second marriage) Ryan,Akira and Akio ( third marriage ),Daughters Maho ( first marriage) Aqua ( second marriage), Serenity ( third marriage ),Rosemary
Takashi Faction Members:
XLeader Rose,Leader Ashura,Lieutenant Ishida,Captain Gabriel,Lieutenant Kirin,Arie Keisuke.Miko,Akiyama
Allies:
Saikon
Team Shadow:
Donne Anonime,Dante,Mayu,Rai,Kanu,Mizaku
Tattoos:
Butterfly "on her chest",Black Dragon/Alchemist Symbol "on her back" Water looking Lilly "on right shoulder",Black Rose "small tattoo on arm",Rose Curse "on stomach",l'Cie brand "is located on her lower chest " left side ",Curse Mark ( on right side of neck/shoulder )
Appearance:
She's a rather tall woman with long purple hair tied up in a ponytail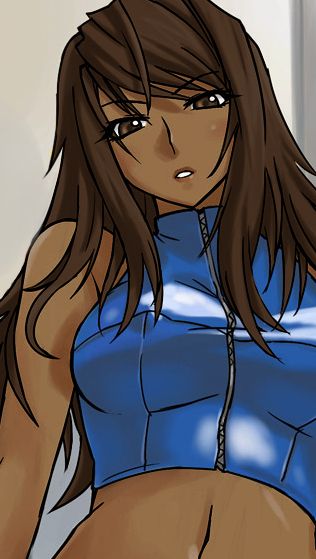 with a length that reaches her hips and has a very attractive body. One can easily associate her white skin with that of a princess. She wears a short T-shirt with a knot-tied at the bottom, revealing her navel; a pair of jeans below with one side sawed off, revealing her thigh. Because the T-shirt is tied down, her breasts are much more noticeable. One can see her snowy white leg, from the thigh all the way down. She uses a two-meter-long nodachi called "Seven Heavens Seven Swords" as her weapon, it has been stated that her outfit follows the rules of asymmetry, which reinforces a small spell that allows her to balance herself and move herself more freely. She wears a flower patterned yukata when she is at Necessarius' dormitories. She sports a denim jacket over her usual attire.
Weapons:
Bloody Rose - a silver gun with a vile looking mark on the left side with its name on it- Blade of Light - a healing sword was given to her by her father Nightz - Red Butterfly - a blade with a red painted butterfly on the side of the blade that was given to her by her mother Koroko - . Bone Blades - in her arms and legs -,Blazefire Saber (Gunblade),Knuckles ( gloves) ,Tiny Bee pistols,Rod,Nodachi - "Seven Heavens Seven Swords",Ebony & Ivory,Rebellion
Small Bio:
Shes was a opened person but since people have hurt her and have used her far to much she`s locked herself up not opening up to anyone and if she do`s she only open up a bit or half just to be safe and you better watch out she has the strength of one-thousand men.Queen of the moon she now upholds the duties of the kingdom wearing proudly the crown on her head.
Short Story:
Rose was a girl who may have been born a demon but appears more human then ever she grew up in a Shadow clan that years later go`s destroyed causing everyone in the clan to die even her mother Snow and Father Masi. leaving her the last survivor with a baby dragon in her arms.After so many years have past she still tries to control her curse inside her not knowing what it could be the only hint she has is its connected to her demon.Rose is now leader of a Faction with a few members and saving the Earth from a evil group called "The Dark Nebular". They attacked the Faction a couple of times and a girl name Maya even took control of Ashura making him attack Rose and nearly killing her 3 times. Rose never gave up and kept fighting doing everything she can and soon after Ashura was freed and is now back home.
Past Life
Left abandoned in a demon`s cave crying in her basket until one day a man named Masi and his team found her and took her into the clan and gave her the name Rose,growing up she was taken care of by Rai the Hawk Eye of the clan and trained by Kanu the dragon arts master and at the age of 10 she found a baby dragon in a egg with her friend Mizaku who was her only friend in the village.
5 years later the village was attacked and destroyed leaving Rose with a baby Ren alone,while wounded she managed to get to a temple there and old wise man stayed and took her in and raised the two as his own white his apprentice helped with the training until one night two months later the temple gets attacked which causes the old master to die due to protecting Rose and Ren from death,Once the sun rises the temple is in almost ashed leaving them grieving and the young apprentice taking care of them until a odd disappearance.
After 10 years have past the young Rose stayed at a empty field that ended up being covered with blood and dead bodies all over due to cause of her full demon blood to awaken and with no questions or even and answer as to how she got like that or even how she snapped out of it.
Now after years of fighting Rose seeks not for revenge anymore but redemption.
Normal Look.
//
Half Up.
//
With Dark Skin.
//
Training outfit.
//
With Eye Patch on.
//
Neko (cat).
//
Cooking.
//
Mermaid.
//
Angel Form:Arch Angel.
//
With Sword.
//
Vampire.
//
Elf.
//
Succubus.
//
In Hoodie with her Devil Wings and Tail.
//
Male Form.
//[
Bunny Suit.
//
Fox.
//
Fox(drunk).
//
Dog.
//
Wolf.
//
Amaterasu Wolf.
//
Amaterasu Human.
//
Tia Form.
Roses Deaths.
//
Roses Weapons.