********!

[Yeah, I said it.]
Good God...Alright, so the contestants were going to be split into Blue and Black this week. Bob versus Jillian. Team versus Team. But, one person got the chance to be able to decide the teams and who would be on each team. There was a wheel, and anyone who wanted to play got to spin the wheel. They had to take whatever was under the tray...whether it was food or the golden ticket. Everyone played, minus Abby. The prize didn't interest her. Everyone got food, until Tracey got up...and holy s**t...Mo felt the air change and guess what?? TRACEY GOT THE CHOICE TO PICK TEAMS! I'm sick to my stomach right now! How the hell did this ******** happen!? So, Bob and Jillian were slightly shocked. Tracey picked Bob as her trainer - Blue team - and said she had a connection with him... YEAH ******** RIGHT! Jillian was right when she explained the real reason behind that choice - "She didn't want to face the beating that she had coming for the last 3 or 4 weeks....I was hoping to beat her to within an inch of her life, so that she knew what it took to be here." I'm with ya, Jillian.
Teams - which pissed everyone off, it split most of the original teams up -
Blue = Tracey, Mo, Liz, Rudy, Rebecca, Allen
Black = Daniel, Shay, Danny, Dina, Abby, Amanda
*Sigh* So, Liz was really upset. But, she swore REVENGE. And what Liz wants, Liz is gonna get. Their first challenge as teams was to hoist someone through an obstacle course. Winner got videos from home. Blue team won...Dina was having trouble jumping on a platform, and I sincerely hope next week she does it.
At the weigh-in...The Blue team lost a total of 43 pounds. And Tracey pulled a seemingly good number...and not a single person clapped for her...again. XD
So, the Black team was doubtful that they could do it. They lost a lot, and needed to lose 45 to win. So, it all came down to Daniel and Shay. They needed to lose 19 pounds. Daniel lost 11. Shay got up there, nervous as can be, and what happens? She lost 16 pounds!!The Black team went fricking crazy! So, finally, the blue team has what's coming to them...minus Liz and Rudy, and pretty everyone who is not Tracey. In a surprising turn of events, Mo got sent home...likewhatthehell?? I don't even know...
Was starting to get frustrated with Dina. Dina complied, though. She did not want to face the wrath of Jillian.
Look at Tracey, looming in the back, plotting her next move, that conniving little witch!
Look who else is plotting something...good ol' Liz. She's gonna get revenge. I just know it.
Tracey haters.
And a whole group of them!
She's laughing at Amanda cuz not even a half hour into their first workout together, and she's already puking. Jillian even came outside to make sure she was actually puking.
This was a very small little look - and very quick - she gave Tracey after seeing what her choices did to the contestants. This might be one of the worst looks I've ever seen Jillian give someone. Tracey should feel ashamed of herself, but oh wait, she doesn't feel anything! She's cold and heartless.
Let it be known, that according to Rebecca, being carried on a platform like Cleopatra sucks.
And we know who the Rockstar of the group is ... Danny. Look at him, he's like "YEAH!!!" They went bonkers when Shay kicked a**.
Complete bullshit, that choosing teams.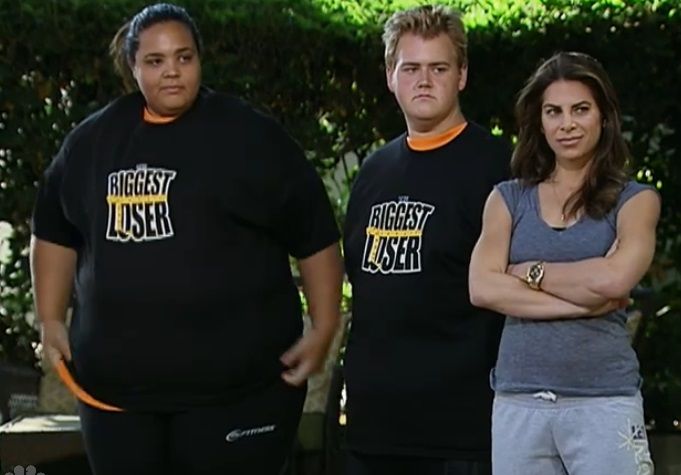 Jillian Michaels - enjoys killing contestants.