Letting off some steam here...
As of this week, I officially hate Tracey! I haven't hated anyone this much since Vicky in season 6! This is the fastest I have ever hated anyone on the show...ever.
Okay, the contestants come to the gym, where Allison awaits them outside. She says that they can take a two pound advantage at the weigh-in, but as a catch, they would lose their trainers for the week. Both members of the team had to comply. So, no one stepped forward, and all of sudden, TRACEY steps forward. Mo wasn't happy. He wanted to train with Bob and Jillian this week. He didn't care about a two pound advantage. Tracey just ******** up big time.
When Bob and Jillian met up with them in the kitchen after, they asked if anyone took the two pounds, completely expecting no one to do it. The look on Jillian's face when she found out Tracey did...she looked betrayed. Tracey literally traded her for two ******** pounds. [pardon my french, I'm mad] Didn't sit well with Bob and Jill. So, then later, they had a temptation challenge - first one. Whoever ate the most cupcakes got to control the weigh-in, meaning they got to pick one person from each team to represent the team on the scale. Guess who won that one? TRACEY. Bob and Jillian found out about that one, too. THEY WERE NOT HAPPY. Jillian, especially wasn't happy. I have never seen her this mad. She threatened to throttle Tracey, she was so mad. She forced herself to calm down.
At the weigh-in, there was betrayal all around and an extremely pissed off Jillian Michaels. Jillian even started the weigh-in off by going off on Tracey. First she told Mo that he should not have supported her decision, then Jillian said that Tracey hasn't learned anything and "You're so full of s**t!" Silence...Someone wasn't happy. So, the weigh in commenced. Hulio went alone. Rudy weighed in for the blue team and did great. As for the pink team, Amanda was chosen, after she and Rebecca specifically told her to pick Rebecca. Amanda did good, though. Betrayal number one. The green team got immunity, so they were fine. The Brown team did fine - Liz. All through this, Jillian just got angrier and angrier. Sean was chosen for the Red team - Didn't do well. He was shocked that he got chosen. Jillian said that this was the sickest, grossest form of gameplay she has ever seen on the show. The orange team got up, and both Shay and Daniel had talked previously to Tracey about picking Daniel. SHE PICKED SHAY. Shay was not happy. She didn't lose enough weight, either. Orange and Red fell below the yellow line...and oh wait, the purple team. Was hoping for some sweet, sweet karma here, but Tracey chose herself and lost 11 pounds.
Not a single person clapped for her.
The room was silent.
That said everything that needed to be said about Tracey.
The red team ended up going home, because Sean and Antoine righteously sacrificed themselves so that Shay, who needed to be there, could stay there. At least there were two contestants who were good.
And I went a little crazy on the pictures, here...

Danny was an idiot for taking the sledgehammer over the cattlebells. "What an idiot." XD
See? She looks betrayed. It seemed that she wasn't worth anything to Tracey.
She is pissed off. You can totally see it in her eyes.
Allen smiling and laughing at the tiny cupcake before him.
Righteous self-sacrifice, you guys.
Jillian received whatever message Tracey was trying to convey.
Hoping no one did anything stupid. Yeah, looking at you, Tracey.
Her anger is escalating at a dangerous pace.
Rebecca[being tempted] : "Damn you sprinkles!!"
She is furious!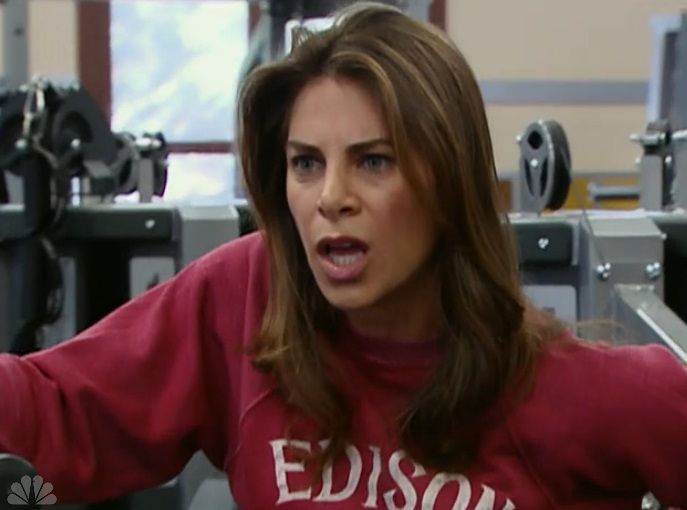 And you don't want to be one the bad end of it.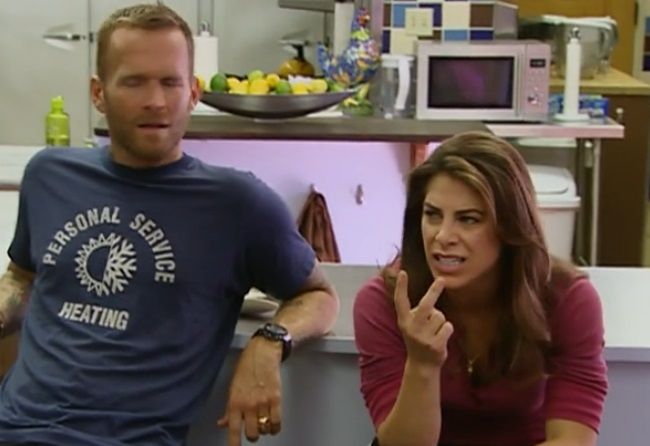 I bet Jillian is imagining that's Tracey's head in her hands.
She's looking at you, like, "See? Don't you hate her, too?"
Is she mad, or is she mad?