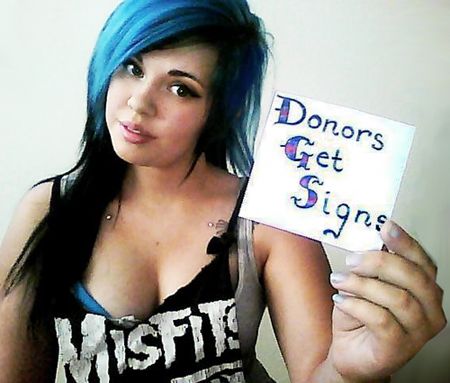 DONORS GET SIGNS
as a thank you to those that give generously.
Things to be aware of:

RULES
I have done this in the past and i had people messaging me "how much is a generous amount so i can have a sign?"
just so you know i will not respond to those messages, its being generous and you will get a sign as a thank you
you are not buying a sign itself.

Now the reason I'm only doing signs for generous amounts is because if i didn't id be drowning in sign commissions from people that have given me 1g, etc. >.>



ALSO!

I will not be doing cleavage or slutty looking signs, i can write on my body if you wish but i will not put it somewhere slutty, if you ask youll be ignored.
I will PM you about the details of your sign, do not message me asking.
Started 7/27/2013 @ 3:38pm

this is where i will be keeping track of donors and amounts given on my quests.
DONORS
Individual that wishes for their name to be withheld = 1M




S1TH = 50k.
SIGN
Akiex = Soundtrack of Love. (quitting so no sign needed)
Imperial Shockies = Violet Bao
Liz Licious V2 = 57k
thisisaninsidejoke
Vomiea = 50k
SIGN
iDragonaut = 1.6M





SIGN
KoTToS = 25k
3D Pixels = 60k
SIGN
A Bong Hit = 2.1M







SIGN
Blessing Obtained. 8/6/2013
New Quest: started 8/6/2013 @ 2:52PM

La Abejita = 200k
SIGN
Volkare = 1k
A Bong Hit (again) = 1M




Mistah J Gamzee = 100k
Kilaria = 100k
BeautifuI Katamari = 1.6M




Thea The Unicorn Spirit Obtained. 9/6/2013
SIGN GIVING ENDED
So im going to stop "officially" questing anything until this stupid inflation is over
I was trying to get a Dtail but when i shot up by ******** that.
Donor after 9/6:
Saving Pavey = 1k
Astarte-dono = 10k
gothicaquamarie = 10k
Baby Banirabu = 100k contest
kawaii tylov = Art of Espionage


Digital Weed = 50k
SheIllz = 20k
Agony Manifest = 500k

Startillery flux = Antipathy 2nd Gen.
Attack on Maddie = 300k
radicaldudessss = 2006 MC
SceneFag Bee = 1M


Peace-Anon = the 3 triplet items + Cupcake Cutie
xanax babe = 100k