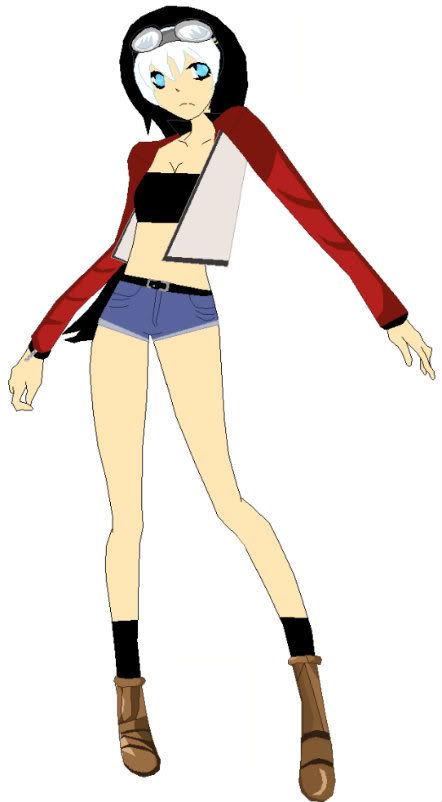 Name
- Syaii
Age
-17
Gender
- Female
Eye color
- Sky Blue
Hair color
- Long Black with White bangs
Occupation
- Trainer
Hometown
- Nuvema Town
Region
- Unova
Team
- Vaporeon - Aquatica,Jolteon - Lightning,Flareon - SoulFire,Espeon - Sun,Umbreon - Moon, Glaceon - Frost
Appearance:
Syaii`s has long black hair with white bangs,she wears a red jacket with light/dark gray and black colors with a black tube top on underneath and blue shorts with a black belt,black socks and brown boots,she also changes her clothing depending on weather and/or event in winter she changed into a black sweater with a blue vest and a blue skirt with black leggings/stockings and black boots,in summer at the beach she changed into a blue and white striped two piece swimsuit with blue sandals,another winter wear she has winter wear a white trench coat with her black sweater underneath, blue gloves and white stockings with high boots.
Personality
- Relaxed,Trendy,Spontaneous.
Can be manipulative sometimes given the circumstances.
Likes
- Shopping,Contests
Dislikes
- Useless battling,Hideous Things
Appearance
- She wears a red jacket with some white,black and a bit of gray in it she wears a black tube top under the jacket,blue shorts with a black belt and black socks with brown boots,she carries a light blue shoulder bag with a pokeball design on it.
Items
Poké Ball x 10
Great Ball x 10
Ultra Ball x 10
Moon Ball x 10
Heal Ball x 10
Quick Ball x 10
Dusk Ball x 10
Love Ball x 10
Master Ball
Exp.Share x 1
White Flute x 1
Amulet Coin x 1
TM10 Hidden Power x 1
TM18 Rain Dance x 1
M24 Thunderbolt x 1
TM25 Thunder x 1
TM27 Return x 1
TM29 Psychic x 1
TM30 Shadow Ball x 1
TM 32 Double Team x 1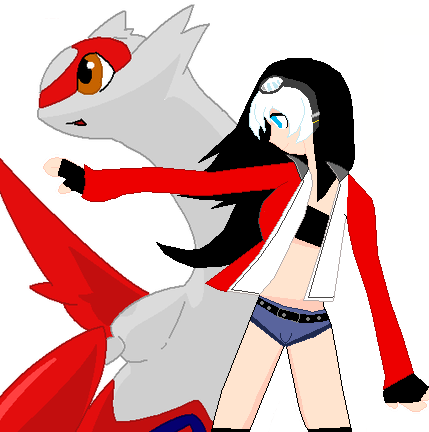 Trainer Counterpart is
Rose
Syaii`s Story
★
Pokemon Team