┏━━━━━━━━━┓
Z e u s
┗━━━━━━━━━┛
Appearance: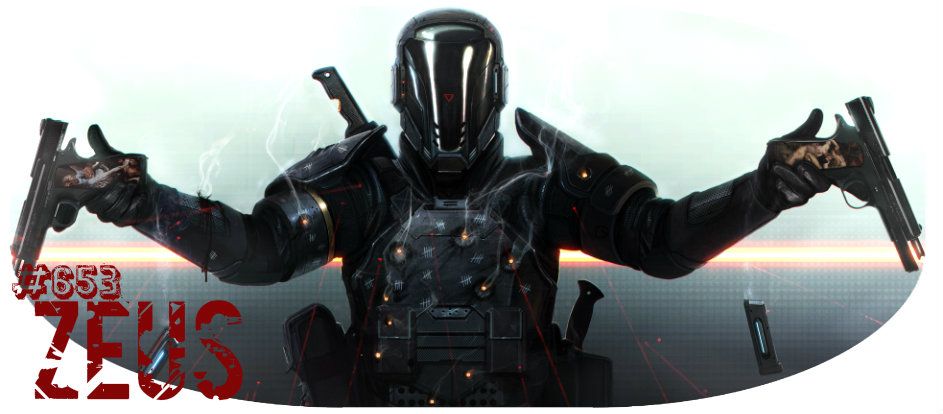 Nick Name(s):

#653



Age:

6 months, fairly new.



Occupation:

Faith's Henchman



Gender:

N/A



Height:

6'4"



Weight:

5140 Ibs, calculated it.
However this does not affect his speed. This just gives enemies a harder time picking him up.



Bio:


Zeus is Faith's most recent creation. He's the most developed and high tech robot she's designed. For six months the robot has been under constant light, Faith had been fixing out as many bugs as she could, but was not able to install a proper security system in time for the games.
Zeus can easily be hacked into by the game engineers and turn on Faith.
Faith has a series of codes to withhold the problem if he's hacked, but if the engineers figure out the series of advanced computer code she's installed as back up, the girl is done for.



Field:


Will forever serve Faith until the day he's decommissioned.
----------------------------------☦----------------------------------



Preferences:


- His creator
- Killing
- Bloodshed



Pet Peeves:


- Those who harm Faith
- Loud people
- Those who insult Faith in any way, shape, or form.
- Not being able to dispose of his creator's enemies.
- Leaving a job unfinished.



Marital Status:

Taken, Faith owns him.



Personality:

Emotionless, stoic, quiet, programmed to solely kill.
----------------------------------☦----------------------------------



Skills:


Being two steps ahead of the enemy at all times.
Immense strength.
Sword play.
Professional FPS.
Aim-bot installed.



Flaws:


Faith wasn't able to finish his programming before the games, glitches and bugs aren't common but he doesn't have a strong firewall.
She wasn't able to finish the anti-hack program, Faith fears the engineers might be able to hack into Zeus and turn him against her.
His weapons were stripped from him, Faith and Zeus will have to work like everyone else to get ahold of weapons.



Stats:

15

points to spend
Health: 100
Strength: 5

+ 10


Smarts: 5

+ 2


Skill: 4

+ 3





Theme Songs:


Main: Till I collapse - Eminem

Battle: Rinzler

Hacked: Glitch in the System

Code:
[align=center]
[b][size=18]┏━━━━━━━━━┓[/b][/size]
[size=12] Z e u s [/size]
[size=18][b]┗━━━━━━━━━┛[/b][/size]

[size=9][b]Appearance:[/b]
[img]http://i1111.photobucket.com/albums/h463/fantasychan76/zeus2_zps7badfc1e.jpg[/img]

[b]Nick Name(s):[/b] #653

[b]Age:[/b] 6 months, fairly new.

[b]Occupation:[/b] Faith's Henchman

[b]Gender:[/b] N/A

[b]Height:[/b] 6'4"

[b]Weight:[/b] 5140 Ibs, calculated it.
However this does not affect his speed. This just gives enemies a harder time picking him up.

[b]Bio: [/b]
Zeus is Faith's most recent creation. He's the most developed and high tech robot she's designed. For six months the robot has been under constant light, Faith had been fixing out as many bugs as she could, but was not able to install a proper security system in time for the games.
Zeus can easily be hacked into by the game engineers and turn on Faith.
Faith has a series of codes to withhold the problem if he's hacked, but if the engineers figure out the series of advanced computer code she's installed as back up, the girl is done for.

[b]Field: [/b]
Will forever serve Faith until the day he's decommissioned. [/size]
[size=14]----------------------------------☦----------------------------------[/size]
[size=9]
[b]Preferences:[/b]
- His creator
- Killing
- Bloodshed

[b]Pet Peeves:[/b]
- Those who harm Faith
- Loud people
- Those who insult Faith in any way, shape, or form.
- Not being able to dispose of his creator's enemies.
- Leaving a job unfinished.

[b]Marital Status:[/b] Taken, Faith owns him.

[b]Personality:[/b] Emotionless, stoic, quiet, programmed to solely kill. [/size]
[size=14]----------------------------------☦----------------------------------[/size]
[size=9]
[b]Skills:[/b]
Being two steps ahead of the enemy at all times.
Immense strength.
Sword play.
Professional FPS.
Aim-bot installed.

[b]Flaws:[/b]
Faith wasn't able to finish his programming before the games, glitches and bugs aren't common but he doesn't have a strong firewall.
She wasn't able to finish the anti-hack program, Faith fears the engineers might be able to hack into Zeus and turn him against her.
His weapons were stripped from him, Faith and Zeus will have to work like everyone else to get ahold of weapons.

[b]Stats:[/b] [strike]15[/strike] points to spend
Health: 100
Strength: 5 [color=green]+ 10[/color]
Smarts: 5 [color=green]+ 2[/color]
Skill: 4 [color=green]+ 3[/color]

[b]Theme Songs:[/b]
Main: [url=http://www.youtube.com/watch?v=X2FefUlxmGU]Till I collapse - Eminem[/url]

Battle: [url=http://www.youtube.com/watch?v=FFgNbZbYChY]Rinzler[/url]

Hacked: [url=http://www.youtube.com/watch?v=UrV_WQM-lbk]Glitch in the System[/url]
[/size][/align]